SUZIE McCONNELL-SERIO SIGNS NEW AGREEMENT AT PITT THROUGH 2020-21 SEASON
McConnell-Serio guided the youthful Panthers to 20 wins and the NCAA Tournament last year.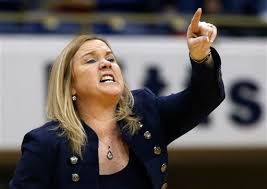 <<< That's intensity!  Match that Narduzzi!
PITTSBURGH—University of Pittsburgh athletic director Scott Barnes announced today that head women's basketball coach Suzie McConnell-Serio has signed a new contractual agreement that runs through the 2020-21 season.
Arriving at Pitt in 2013, McConnell-Serio has revitalized the Panthers' fortunes in quick and impressive fashion. This past year she guided a youthful squad to a 20-12 record—including a 9-7 mark in the rugged Atlantic Coast Conference—and the program's first NCAA Tournament in six years.
"Within a very brief period of time, Suzie McConnell-Serio has made a remarkable imprint on women's basketball at the University of Pittsburgh," Barnes said. "On and off the floor, she has Pitt on the rise and we are thrilled to announce this commitment to her and our women's basketball program. Suzie is nationally respected as both a coach and person, and we couldn't be more excited about her leading our program into the future."