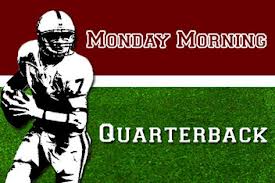 (This is a weekly series of articles entitled "Monday Morning Quarterback".   I will try to post them two days after the football games are played so as to have our wilder emotions under control by then.  It will be my take on the positives and the negatives we saw happen and a chance for commenters to agree or disagree and to add their own thoughts.)
POSITIVES
1.  Any RB not named James Conner, again. What a great supporting cast at RB we have. Conner gets a hip pointer and is pulled after tying the ACC TD record and chasing hard after Famous Tony Dorsett's record and our running game doesn't skip a beat.  We were up against a Syracuse defense that wasn't too bad against the run (139 ypg & 30th nationally) and pretty much had our way with the.  True FR Chris James was the lead horse but the other two RBs certainly chipped in when needed.  The box score reads like this:
James: 19-122, 6.4ypc;  Bennett: 11-75, 6,8 ypc;  Ibrahim: 3-23, 7.7 ypc.  When you have three backs that average above  6.4 ypc over the course of 33 carries both the backs and the OL are clicking.
Bennett had a nice 9 yard ramble on a 2nd & 3 yards play that got us a 1st down and led directly to Voytik's TD pass to Ford to make it 17-0 and an easier game to play. But all three of those guys had very nice running skills and are a mixture of some power, Bennett and James particularly and shiftiness (all three).
We all want Conner healthy and able to set some records of his own against Miami this week but it helps us fans to know that we have some pretty reliable backs behind him.  I thought earlier this season that if Conner had gone down with an injury it would be a loss but we would also have the OL and the RBs to still mount a successful rushing game.  Glad that it didn't happen for many reason and on is that having Conner behind Voytik has allowed this staff to bring Voytik along slowly and that has paid dividends in the second half of this season.