What a great day yesterday. It seems like we are learning about each other and each other's families more and more on here.  It was a nice day for me and the feedback on the article made my ego run more rampant that it usually does.
Back to football though, that's what we are here for.
PITT has sent out a press release on the new renovations going on in the Southside Football facilities. Here is the advertisement and the link takes you to the actual website.: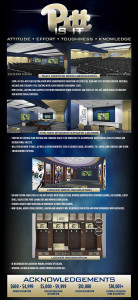 As it is and will be for some time it eventually ties into donor giving.  The levels are listed and it is a good cause for us PITT fans.  I'm donating one month of the salary I get from Chas for my writing on The Blather.
Even if we media types can't get into the actual fall camp practices and scrimmages we'll be able to get into the facility.  So, next time I get up to Pittsburgh I'll take photos.  If anyone else has access before me feel free to snap some and send them to me and I post them.
Here also is a May 16th article by Sam Werner of the Post-Gazette that I'll link to again.  It is a background piece on the facility renovations.  I'm not sure about this quote from Narduzzi though:
As far as the aesthetic part of the renovation, Narduzzi even admitted that's not for the players currently on Pitt's roster.
"It's obviously something visual where you go in, look it and go 'Wow, this is beautiful,'" he said. "It's not about the beautiful factor for the kids currently in our program. The beautiful factor is for the guys that are walking through those doors on recruiting visits."