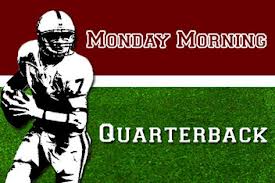 (This is a weekly series of articles entitled "Monday Morning Quarterback".   I will try to post them two days after the football games are played so as to have our wilder emotions under control by then.  It will be my take on the positives and the negatives we saw happen and a chance for commenters to agree or disagree and to add their own thoughts.)
We met the enemy and they are us.  After some games this season it has been kind of hard to find three positives to list in this series' articles.  Today it is virtually impossible.
POSITIVES
1. The holder on our PATs. At least he didn't fumble the ball.  Seriously.
2.  Our Running Backs. A while ago I mentioned 'every RB not named James Conner' in an article. I'll do that again here. Ibrahim, Bennett and James all had good plays to try to keep us in the game.  Ibrahim (3 carries for 66 yards)  took a handoff down the left sideline for 50 yards to set up a Conner TD; Bennett, although he was one of the now-record breaking PITT fumbling crew, took a beautifully thrown wheel route from Anderson down the right side for a 35 yard TD and Chris James contributed a nice show of yards after the catch on a short dump pass from Voytik that James turned into a 23 yard gain.