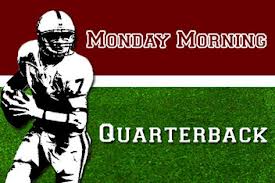 (This is the first article in a weekly series of articles entitled "Monday Morning Quarterback".   I will try to post them two days after the football games are played so as to have our wilder emotions under control by then.  It will be my take on the negatives we saw happen and a chance for commenters to agree or disagree and to add their own thoughts.)
Two days have passed since our 62-0 victory over Delaware in the 2014 season opening game at Heinz Field.  As all dedicated fans do, let's take a look at who we think screwed up and who we believe made bonehead decisions.  I'll start and then the ill-informed masses can comment with their own take on the issue.
Something that concerned me, and I touched on it in the post-game article from yesterday, was the decision making of Chad Voytik.  On the face of it and by just watching him play out there everything was fine and indeed the results were good.  However, when you are playing a FCS opponent and get a big early lead it is also time to work on your weaknesses in addition to scoring more points.
Since I had a chance to see and hear the offensive coaches interacting with him in a couple of camp practices I noticed some things on Saturday that he needs to correct so that he can get the best out of his own talent and out of the talent around him.  Granted it was his first start but that is when the learning curve gets the steepest.
In a nutshell, Voytik was moving out of the pocket too early and throwing away the chance of deeper completions.  A QB can't really run through his progressions when he's rolling out because in doing so his field vision is cut in half.  Once that happens he's then looking at an outlet receiver to get the ball to for any gain of yardage.  He's cheating himself of the opportunity to get the most reward out of the called passing play and as a young starter he has to learn to maximize those opportunities.  Some of those QB movement plays we saw were called rollouts but on other plays he bagged too soon and, even though he may have completed the passes, he left better openings downfield.  No use having Boyd open on an intermediate route down the left side if Voytik starts rolling out to his right.
We'll see a lot of called rollouts this season because Voytik  has the legs and level head for that action, but the majority of his pass formations will be either a three or five step drop or will be done out of the shotgun.  That pocket passing is what he needs to feel comfortable doing.   How he becomes comfortable with it is by sticking with the plan even if it is trial by fire and he gets sacked once or twice.
Another thing to consider with this is the need for him to trust that his offensive linemen will be able to counter the initial rush and keep moving outward with their defensive linemen to create a pocket for Voytik to step up into.  That too comes with experience and I think we'll see it happen as the season progresses.
This isn't a criticism of Voytik as I've been impressed with his play so far but is written to point out that he's still a bit behind the learning curve as to how Chryst and Rudolph want him to execute plays as their quarterback.
One other thing I'll address is the strange and unnecessary penalty on DE Dave Durham after his sack toward the end of the second quarter.  If you watch at the end of this video clip he's saying something to the QB right before the Ref threw his flag.  Regardless of what instigated the penalty it was a foolish action on his part on a couple of levels.  First is in the scheme of the game itself.  We were only ahead 7-0, had Delaware back on their own 17 yard line and his sack put them on their own two.  Then his penalty took them from what would have been a 3rd down & 35+ yards from the two yard line to a 1st down at the 26.  So, instead of a great shot at a safety or at the least a probable three and out series, we gave them brand new and decent field position and a first down to keep the series alive.
OK – that's the in-game situation itself.  What really bothered me was the fact that it was a totally unnecessary show of bravado from a guy who is a fifth year senior and who should be showing 360 degree leadership to the youngsters on the team.  As the youngest team in the FBS, and a team that is struggling to become a winning one, we really need senior leadership both in the locker room and on the field.
Remember Ray Vinopal hearing rumblings in the week before the game of some teammates joking about Delaware and taking the game too lightly?  He did what a true leader does – got in their face and showed them the error of their ways.  You think that wake-up call might have been one reason the whole team played like it was a FBS playoff game with no let up by anyone who got onto the field?  That happened because the starters and upperclassmen showed the way with how they comported themselves from the end of the camp to the finish of the game's 4th quarter.
I get that Durham was happy, especially with the criticism he seems to get from all sides, and that play was a great one.  I also get that it was a bush call for almost nothing untoward but we see PITT players do great things all the time without showboating.  Conner runs for four TDs and celebrates with his teammates while jogging back to the bench; Boyd has amazing catches and stands up and gets with his teammates to celebrate on the way back to the huddle.
This is part and parcel of what Paul Chryst is trying to teach and instill in his younger players, respect for the game and the opponent and he's depending on the upper classmen to help with that – we hear it all the time from him and that's a big reason us PITT fans are so happy he's the HC.  Durham made a mistake and his position coach leveled the verbal shotgun at him on the sidelines.  I'll bet a dollar we don't see that behavior from him again even with the other good plays he'll make this season.  Live and learn and be an example of what a senior is supposed to act.  I know I sound like a prude and I'm really not, and I'm sure Durham is a good leader, like this guy, but I do think that penalty was kind of a big deal.  That said, I thought the gesture was pretty funny but knew he'd get the flag.
I guess I'd have like to see Anderson throw more passes but his nine yard run from our own one yard line and the ensuing 99 yard drive was pretty nice.  BTW, he'll be the QB we see if Voytik get injured.  The PITT fans wanting Bertke put in if that were to happen are not thinking straight.
Finally, I really can't think of any more "Monday Morning Quarterbacking" to be done.  The subject of Boyd as a punt returner has been beaten to death and I won't address it because there really isn't any pat answer and won't be until the end of the season IMO (Sorry Dr. Tom).