So, this is the final "Challenge" question in Volvo's Biggest Fan in the Big East competition. There's still time to vote for me, before the popularity aspect closes next week.
This time the question is the equivalent of a clip show. They are asking to recap the experience. Favorite aspects, the experience itself and what not.
Not the most exciting question or topic, I know.
Overall, this has been fun. Free trip to NYC for Big East Basketball Media Day. A trip back to Pitt, College GameDay, along with hotel, tickets and some walking around money to the Louisville-Pitt game Courtesy of Volvo. Plus free use over the weekend of a very sweet Volvo S60 T6 with all the bells and whistles.
The chance to win the new car and possibly go back to NYC for the Big East Tournament also in the mix. All I had to do was whore myself out for a series of posts over the past few months — most of which related to Pitt and the Big East. Note to other corporate sponsors of Pitt, the Big East and eventually the ACC: I can live with that kind of trade. Call me.
I'm sure many of my counterparts will talk about how great it was to meet the others in the competition. To go back and forth on Twitter, facebook, etc. Getting different perspectives. And I enjoyed meeting them, but it wasn't anything new. I've been blogging and talking with other Big East bloggers for years now. So hardly a new and unique thing.
By far the favorite post in the challenge was taking a stroll through the memories of places to hit while visiting Pitt. I still have one more post to get out on the actual trip last month, but I was very pleased that I managed to get to many of the places on the list. Even managed to get to Aiello's for a couple slices at 1am Saturday night/Sunday morning.
It was a bit of a whirlwind coming and going to the Big East Media Day. As I said, it was more than a little disturbing that the guys I found myself hanging with/getting along with immediately at Big East Media Day were the WVU and Providence reps. Strange bedfellows, indeed. But it was  was great to watch the flurry of action. All the media trying to get to as many players and coaches as possible. Everyone trying to get stories done. File reports and hoping not to miss the really good quotes. And I'm just there watching, listening. Generally just being bemused. The hardest thing was not jumping in with questions or taking some pics.
The desire to be there for the good quotes was why coaches like Pitino, Huggins, Boeheim and Calhoun were surrounded by the media for most of their availability for questions. (Not to mention, some nervous looking SIDs hovering nearby.) History, their safe status with their school and fans, and just who they are guaranteed at least one of them would deliver. Pitino without question, was epic. He never stopped going off about expansiopocolypse. The media was entranced. He'll be so thrilled when Louisville heads to the Big 12 in a couple years.
Thanks Volvo for the fun, and remember. I really do need a car.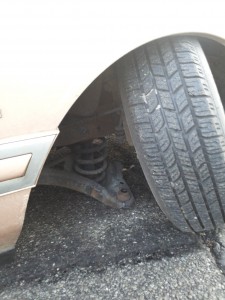 ---