This is the second challenge from Volvo for the Biggest Fan in the Big East. I got a lot of great feedback when I posed the topic last week. The losses of so many old haunts had me step out on the porch and pour one out for the collective losses. The Decade, Calicos, Zelda's, CJ's, Thirsty's, Upstage, Electric Banana, Syria Mosque, Graffiti, and so many  others — all gone.
When my wife and I were still dating, we took a trip to Pittsburgh for a weekend. A friend was graduating from law school, and there was already plenty of reminiscing happening with my friends. As we were driving around on the second day there, I was pointing out another place — along with an anecdote of why I mentioned it — she asked me, "Why do all of these stories start with, 'One night we were so…'?"
"Um, just the good ones," was the only response I could offer.
And she still married me.
Here's the question as a refresher.
Pick 5 or more things that you have to do when you return to you're Alma Mater (places to see, best bars, best food, cool places on campus etc.).
The trick is "have" to do versus time to do. There's only so many places you can go to have a bite or get a drink in a day — or even two. Still, when I have a chance to be in Oakland for a little while there are certain things I feel that must be done or that I get ticked that I missed a chance to do.
As an urban campus, Pitt is condensed (PDF). Now if you were an engineer or psych major there are particular buildings you may (or may not) want to go past. But as a rule, this is an easy path to hit some key spots and walk past a few others. Find a place. Park your car — hopefully an S60. (I am so looking forward to driving this car around Pittsburgh for a weekend in January.) Feed the meter if you have to, and just walk.
1. Wander over to the old Forbes Field Wall, tap Home Plate in Posvar Hall, stop by the Panther in front of the Student Union and then go to the Cathedral.
I'm not a Pirates fan. I didn't grow up in Pittsburgh. I am a baseball fan, and remnants of old Forbes Field were always incredibly cool to me. When I was at Pitt in the late-80s and early 90s, aside from a historical marker like this revised one:
You would not have even noticed the old brick wall at the southeastern edge of the campus. Ivy covered red brick section that you would pass and easily miss. But once you knew what it was, it became something else.
It is still so cool to just walk over to it and walk along the wall. Trying to envision Forbes Field right up against the Pitt campus. The players who roamed in the spot. It is something that connects with the history. In recent years they have done quite a bit to make it more of a memorial and show the history. It still comes down to that wall.
Then it is time to trace your way into Posvar Hall to find home plate.
The long-told story has always been that the location of home plate had to be moved to avoid being in the women's bathroom. You can't imagine how disappointed I am to find out that this is apparently a myth.
From there, it is a walk past Hillman Library and the outdoor vendor selling Pitt gear from the back of a truck since I was a sophomore. He is parked right in front of the William Pitt (Student) Union. There is an addition that my kids love. The Panther.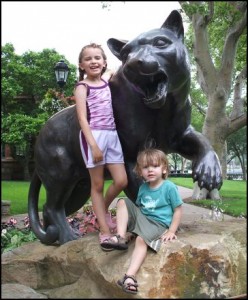 Officially, it is called the Millenium Panther (did not know that). It was added in 2001.
And then you look across the street: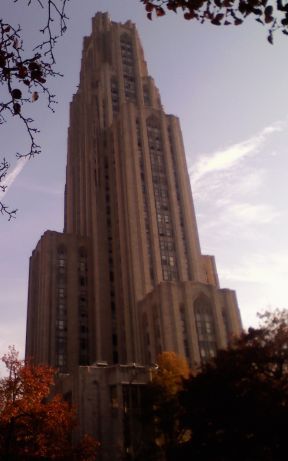 The lodestone of the school. The Cathedral of Learning always the landmark to guide you back to campus. And now, with falcons. I spent so much time in the Cathedral. Studying in the Commons, pulling the all-nighters there during finals week, and rolling the occasional penny to disturb the late night quiet). Do they still use the fireplaces in the winter months?
Just the center of the campus, and when Pitt wins, the top is bathed in the golden glow of victory lights.
During my final couple years at Pitt, Paul Hackett was the head coach in football. Needless to say, there weren't many good times tied to the football team. More often than not, the games ended in disappointment. I don't even remember which game it was, but it was an actual win late in the season. We had been enjoying that feeling at C.J.'s afterwards — and for quite a while. A buddy and I headed towards North Oakland where I lived to grab some food and relax at my place before going back out on a Saturday night. Since it was early evening in November, it was dark. As we staggered past the Cathedral, we looked up at it and were dumbfounded. Absolutely confused. Why was the Cathedral lit like that? What did it mean? It had been so long since there was a Pitt win, combined with our heavily inebriated state that we couldn't make the connection. That sums up the Paul Hackett era for me.
2. The O
The Original Hot Dog Shop. The Dirty O, Essie's Original Hot Dog Shop. Whatever you call it, everyone in Pittsburgh knows what it is and where it is.
I loved having mine with the gravy-like substance they offered. Most of my friends preferred the cheese-esque option.
I have to say, that these don't look anywhere nearly greasy enough. An always amusing thing is to go to the O during the first day when freshmen are moving into the dorms. The non-natives go there because someone they knew said they really should. They look up on the wall and see the sizes of the baskets. First they bitch a little about how expensive it is, and order without realizing just how high they pile the fries in the basket. The look on their faces is always worth it.
Late on a Friday or Saturday night, the O was almost mandatory. The real debate was whether to eat there or lug them back to someone's place. You just did not want to be the one stuck with the lingering grease smell and the remains the next morning.
3. Uncle Sam's
Another tradition in Oakland. Uncle Sam's has mostly stuck to what they do best for over 25 years (salads?). Just make subs. Really, really good subs. There is so much that just hasn't changed when you go there. It's loud. Busy. They get you in, get you out. My favorite place to grab lunch on campus. I still love it when there is time to grab a chicken cheese steak before going up to the Pete.
4. Hemingway's
When I was at Pitt, Hemingways was a halfway decent restaurant in a great location. It was the place you went to because A) your parents were visiting and you didn't know where else to go close by that you could have a sit down meal or B) because you were under 21 and planned to sneak into C.J. Barney's through the shared hallway.
Now, it is a very excellent college bar. There's a solid selection of beers, and a good vibe in the place. It's still a little weird when I think about it. If you can get to one of the tables right by the front window, the people watching on Forbes Avenue is outstanding while still being a part of everything inside.
I need somewhere to take my kids. And Dave & Andy's is actually somewhere in Oakland I can take them. I love their milkshakes. I'm starting to drool just thinking about them. All the ice-cream is  fresh. All made on site. The waffle cones. Oh, and the added plus of the liquor store being one or two doors down.
5. Pamela's
More food. Let me keep it simple. You. Need. These. Pancakes.
The facade outside has changed over the years, but not the lines on the weekends or the quality of the breakfast. Everyone will tell you to get their pancakes. Don't try to be clever and go for something else. Get the pancakes. Oh, and bring cash.
Didn't see this one coming, did you? As much money as I spent on drinking while at Pitt, my worst drug was my comic book addiction. Phantom has moved a few times over the past 20 years. But never away from South Craig Street. They know that location puts them in the sweet spot between the geeks at Pitt and Carnegie Mellon.
The owner of the Phantom, Jeff, is one of the nicest guys I've met. It's been more than 10 years since I was a regular, and he still knows me and will talk (which may also be a reflection of just how much money I spent there). And yes, there is a passing resemblance to the Comic Book Guy.
7. Peter's Pub
This is really the only bar in the campus part of Oakland that has withstood the test of time. It was there before I came to Pitt. It is still there. So many others have fallen or changed. Peter's endures. That alone, on a campus that has changed so much in recent years, makes it worth stopping in for a beer.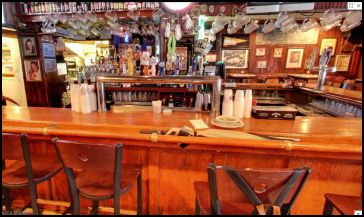 Look at this bar. The taps, some of the bottles and the prices have changed, but that is the same bar. The same wood paneling. The same stuff on the wall. The same layout that I remember from being at Pitt. That counts for something.
The others that didn't quite make the list — and I feel guilty about leaving them off the list:
Primanti Bros. in Oakland
This was tough. Another staple, and truly a Pittsburgh classic. Whether it is a Pitt game or a Steeler game, when they do one of those bridge shots of local food, it is inevitably a Primanti's sandwich they feature. Those fries on the inside, were unique. Now it is often copied — but never duplicated. At the same time, you can now go to a Primanti's in Florida. So, it loses some of it's special allure. Especially when I can even stop off in Grove City while driving on I-80 to grab one. Not quite the same.
Chief's and Mitchell's/Charlie's
I lived in North Oakland once I moved off-campus. These places were staples. Stumbling distance from where I lived. Loved them. Especially Mitchell's and Charlie's. But I can't say I've been back in quite some time. Seems like a good idea, but it never quite happens. Maybe next time.
You need to have a late night diner somewhere. The distance walking back always seemed so much further.
Squirrel Hill Cafe, AKA  The Cage and Aiello's or Mineo's (Squirrel Hill)
Tessaro's, Pleasure Bar and Bloomfield Bridge Tavern (Bloomfield)
Everyone at least had one friend who lived in Bloomfield, Squirrel Hill or Shadyside. The neighborhoods near Oakland. Inevitably you probably spent a lot of time in at least one of these locations, and have some great memories of them.
The Pleasure Bar, for those not familiar, is not some strip club despite the name. It's a great bar with fine Italian food available. One of the reasons I remember it fondly is that the last place I lived in Pittsburgh before leaving was two blocks away from it. At the time, Yuengling was still in the early stages of making its inroads to Western Pennsylvania, and the craft beer movement was still not much more than Sam Adams. The Pleasure Bar was one of the only places I could get Yuengling Black & Tan on draft.
Many nights were spent in the Squirrel Hill Cafe. Especially after I graduated. When a buddy got married this past September on the same day of the Pitt-Iowa football game, I was very late to the reception because I had stopped at the Cage to check on the game and have a beer since there was a bit of time between the wedding (pre-noon) and the reception — and the Cage was on the way.
---