Well, that was fun. Just a quick check-in before I wander Oakland for fun and to grab a bite to eat.
Got in last night well before the storm hit. Have to say, it was fun driving the Volvo S60 last night. I also want to make it clear that at NO TIME did I learn that the V6 325HP car can easily reach 120 mph on the Ohio Turnpike. NEVER. IT DID NOT HAPPEN.
Took the car out in the slush and snow for "fun" this morning (and to get some bagels). Not surprisingly, since it is a Volvo, it handled it all easily. It almost felt like cheating.
Good time at Gameday. The Oakland Zoo brought the energy. Others brought them donuts.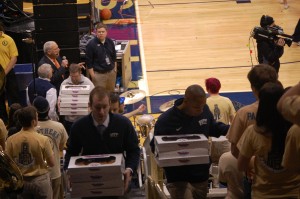 Here are some more photos. Just getting this out quickly so no time to really edit.
Digger Phelps may be a highlighter, color-coordinated goof at times but he is tremendous at helping to pump up the student sections. He does have fun doing it.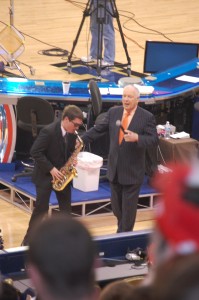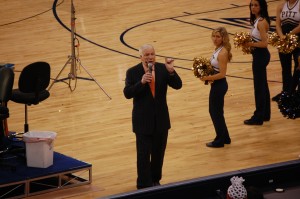 I must say, State Farm plasters their stuff everywhere for this morning show. And by the way, buy a Volvo. Go vote for me in the VOLVO Biggest Fan in the Big East contest.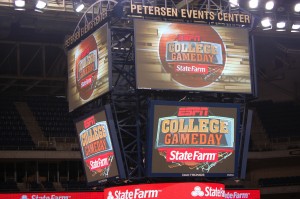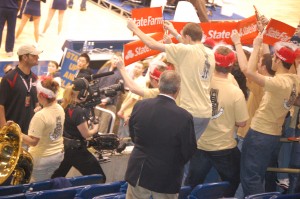 All the ADs were there. Greg Hotchkiss, the basketball side assistant AD was constantly in motion, so no picture of him. Here's Football Assistant AD E.J. Borghetti and AD Pederson.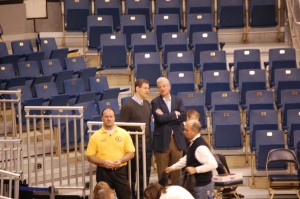 The great thing for me was that I was allowed a lot of freedom to roam around. At one point I was standing to the side about a yard away from AD Pederson talking with Coach Dixon. Mainly small talk. Not that I was eavesdropping or anything.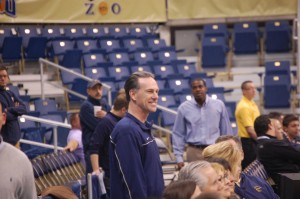 I was even allowed to wander on to the court to snap a couple photos of the Zoo and GameDay Crew.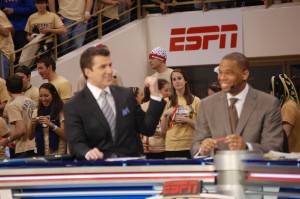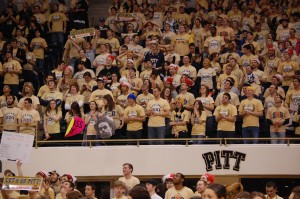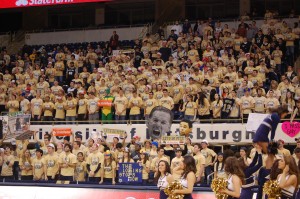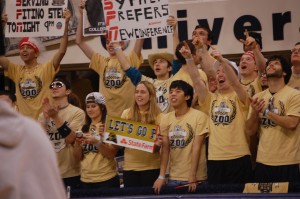 The Zoo really was great. They saw Paul Chryst show up around 11 with recruits and chanted his name until he acknowledged and waived to them from the other side of the court.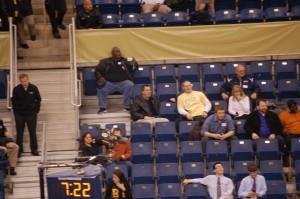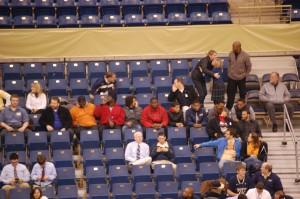 By the way, they get these kids up early when on an official visit. This was posted in the elevator at the hotel.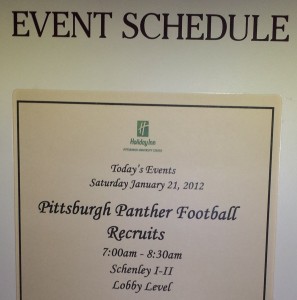 Hope to see a lot of people at Hemingway's.
---