You have to say one thing about our new Head Coach; he knows how to work a room.
PITT hosted a Pat Narduzzi Alumni Meet and Greet evening in Washington DC last night and approximately 220 PITT Alumni and fans showed up for the festivities.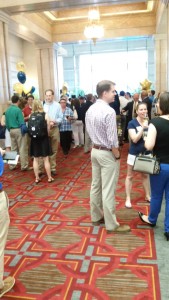 (Note: here is a late addition of all the photos taken by the PITT media department of the event – pretty interesting and try to play "Where's Reed"  Hint: I'm taller than everyone else.  Look at photos #26, 46, 55 and 56.
It was a nice evening and was intended as an avenue for PITT to re-awaken the alumni – athletic department connections. There is really no telling how well that went over, I'm sure PITT will contact the attendees later to further the money side of the equation. It was very well produced, people were happy to be there, and Narduzzi used his oversized image and personality to get a good and excited feeling going with everyone to take home when they left at 8:00.
The plan was set up like this.  Schedule the evening in late May when DC is starting to really heat up so that in addition to the high temperatures you also get the springtime mugginess that permeates DC.  Then, arrange to have most of the event outdoors; the check-in line (with a five minute wait),  two  tables with PITT advertisements and information publications, a table of PITT shirts and hats for sale and two other tables with the 'light appetizers' which were actually substantial and well presented.
The only thing missing was the Red Cross station where one could get intravenously re-hydrated due to sweating every drop of water out of your body. A lot of the attendees parked outside of DC and took the Metro in and that four block walk on hot concrete was a killer.  It was nice later in the evening though and no matter how talented Narduzzi is he really can't control the weather.
But honestly, the place was well arranged and attractive and because PITT rented out a smaller conference room at the most famous and expensive hotel in DC, The Willard, space was at a premium so they adapted well to the size allotted.
So much for the event planning.  What the evening actually was meant for, and did, unfolded like this: they had a reasonable priced cash bar on one side of the room and the alumni/attendees mingled among themselves with Pat Bostick, former PITT QB, now PITT Radio co-host and Director of Athletic Development, glad handing the room as the event MC.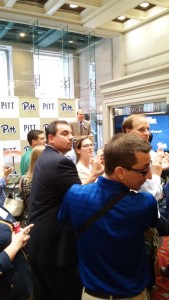 Chris LaSala (Assistant Athletic Director for Football Operations) was also there working the crowd and was available for questions I believe, at least I saw him in a lot of conversations. Ronald Idoko, former PITT DT and now the Director for Alumni Clubs and Councils, was also there and drumming up business.  Here is a nice website about PITT's alumni relations.
From 6:15 or so onto 7:15 Coach Narduzzi was having his photo taken with anyone who wanted one. That was very popular and there was a long line of people waiting to do it.  After that PITT's Director of Alumni Relations welcomed everyone with a short piece about the importance of the alumni to the university, then Pat Bostick took the stage for introducing Pat Narduzzi.
Narduzzi welcomed the attendees and said that as the HC he needed strong support from everyone, especially the alumni, if he was going to be successful here. That went over well and he expounded on that for a while.
Note: After a big build up Narduzzi was introduced and when he was walking toward the stage there was complete silence – I was actually the only person who applauded- for him, which is kind of ironic don't you think given my attitude of 'wait and see' with Narduzzi.  I started laughing and got some weird glances from people around me.
So, what was said and done as it pertains to the actual football program and the team in particular?
Coach Narduzzi started out welcoming people with the standard schmoozing and joking to make himself and everyone relax a bit.  Here are some of the following highlights:
He started off talked about what he inherited from former HC Paul Chryst and he is genuinely appreciative of the state of the program and of the "high caliber of players Paul left me".  He mentioned that when he first met with the players he was struck by how quiet, respectful and forthcoming they were towards him… and about now that everyone knows each other how loud and boisterous the players are.
Talking about the need for better attendance at the games he related a bit about a nameless player who got him aside and said "You know coach I play better in front of large crowds" then Narduzzi rolled his eyes which cracked everyone up.
He went on about how the players weren't the type to feel that PITT owed them anything, and he himself felt it was more like what Narduzzi owed them in return for coming to PITT.  It is obvious from his talk he is really thankful and impressed with the roster as is in terms of overall quality and character.
He segued into the remodeling of the Southside facilities and how they are gearing it to specifically impress the prospective recruits who are visiting (below is the Post-Gazette's artist rendering of the design).
Along with that he demonstrated how the meeting rooms were now (like the venue that evening) and how he is getting stadium seating so the back row can see as well. He also discussed getting Telestrators in the positions coaching rooms making the teaching and visual learning easier to do.
An interesting point he made leading up to that facilities issue was that the Steelers, because they draft and pay their players, don't really care what their side of the facilities look like as they don't have to impress anyone into joining their organization as PITT does.  That is a good point and when you see the two in comparison PITT blows them away – but again, for us it is a necessary tool to advertise our past players and glories.
Narduzzi talked a bit about Heinz Field (more on that later) and made a short and oblique reference to the on-campus stadium (non-) issue.  In essence he said Heinz Field is it and will be it for a long time, which echoes what I've now heard the Chancellor, the new AD and anyone else at PITT I've discussed this with about the chance of a Oakland stadium happening… which is close to nil.
He started in on the actual football stuff and said 'I've had three losses in the last two years and want that to happen here' which cause 53% of the attendees to faint. He went on about how PITT has all the necessary things in place for a successful football program, meaning in terms of winning games.
He talked about the support he has gotten from Chancellor Gallagher and related a story about how he sat down with our new ADS, Scott Barnes, and after five minutes he said to himself, 'this guy has got it and wants to win as badly as I do.' That went over well with the crowd.
After about 15 minutes of expressing all the things he was feeling as the new HC, all positive of course, he and Bostick opened up the evening for questions.
Naturally the first question was…. wait for it… 'When are we getting new uniforms and going back to the Script logo?  That got applause and he took the question head on by saying, 'It's Nike's fault!".  That's not really true; what he said was it was Nike's call for 'at least a year'.
That is exactly what we heard from other sources and it is obvious that the contract we have with Nike is firm in their designs until the contract runs out or is modified.  I've a feeling that it's also when all the PITT gear with the old logos and text on them are sold.  In essence he and the administration have already picked out and designed the new uniforms but they won't come to fruition for a year.  He likes them "Pretty cool!" and thinks fans will be happy with them also.  This coming year's uniforms were chosen by Chryst last year.
According to a commenter's wishes I called out to Pat Bostick that I had a question and asked "Coach, you have talked a lot about the new look of the Southside facilities but is it possible to get the field at Heinz to be more PITT-centric an games days… some logos on the field and such."
To which he answered that there were some small things they could do… really hemming and hawing because it isn't his decision to make and then he finished his answer with a joke about "Maybe we could take this down there" referring to the back drop screen on the stage with the PITT logos on it….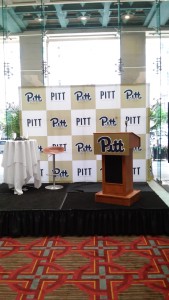 To which I answered back "Hey, that was how PITT would do it in the past…".
We then had an interesting back and forth where Narduzzi said "That's a good question.  You look like a reporter… taking notes about what I'm saying" which made everyone there turn and look over at me (glad I wore my best earring) and I replied "Well… I kind of am coach."  I think either Pat or Chris let him know that I wrote for a PITT blog beforehand which is fine with me.
I did notice that there were no other media types around which struck me as peculiar as this was the first one of these highly advertised meetings and would make a good article for the sports pages.
Next question was about the lack of talent and depth on the defensive line and you could see he was more comfortable with this subject. He acknowledged that there were some shortcoming at some position, which was really refreshing to hear a PITT HC tell the truth about a team's real and actual talent – other than Todd Graham throwing our QB under the bus that is.
That led to his discussing the transfers he has coming in and how we should see some help at the DT position with Ex-MSU Mark Scarpinato of the 'Do I want to play or don't I want to play… I guess do!' fame.  BTW – does everyone know that Rivals's Panther Lair is the official internet outlet for PITT football?  That is why Chris Peak gets all the good stuff before everyone else.  With that contract Peak's podcasts are also run in association with PITT and are great places to get the football information.
I think the audience wanted more details on the new additions to the roster but Narduzzi's hand are tied as far as the 2016 recruits go although he did introduce the two PITT "Maryland Area Recruiting Coordinators" who I didn't recognize and who didn't say anything.  He spoke about the push they have and are making in recruiting.  It is obvious that the recruiting budget shot up given the amount of time and area covered by his staff.
However, the main point he made about PITT's recruiting is that he wants every PITT fan to be a 'recruiter' within NCAA boundaries.  That means that he wants any info we may have on a player and would like us to get in touch with his staff, also any players who may want to go to a PITT camp, etc… Running Backs and Special Teams coach Andre Powell join him on stage to talk about recruiting also.
When asked about getting our 'rivals' WVU and PSU back on the schedules on a regular basis he  mentioned that he wasn't involved in scheduling but he felt that every 'in-state' rivals should play every season "for 400 years".  He asked the crowd who they would rather see and the response was overwhelmingly Penn State.
He started free talking about his approach to the game of football.  In a nut shell it was "There is something called time of possession which means we have the ball and the other team can't score."  Gee, who knew that?  That led to him talking about using James Conner and running downhill most of the time.
The show ended pretty abruptly with a last question and I didn't get a chance to ask specifically about Nate Peterman's transfer and an 'actual QB competition' which I really wanted to do but he would have given a stock answer I think.
Overall Impressions:
Pat Narduzzi is a highly energetic, too much so sometimes when he's speaking – he goes a mile a minute and it is hard to grasp his speech sometimes. He's a highly confident guy and it comes across in public.  He is the antithesis of Todd Graham in that you believe what Narduzzi is saying because he relates on a human contact level.  While there is still coach speak he knows he's doing it and tries to flesh out his conversations with actual information.  He is an easy guy to like and I do.
The evening was both well done and fun to attend. PITT can be proud that the arrangements they made were in a great venue while also setting the bar high for alumni relations to be discussed.  The Willard is one of the most famous hotels in the US and was a top shelf place for the show.
That wasn't a coincidence either, they are asking for big money from the alumni and what better place to make someone feel like they 'want to be part of this'. Using the New York Athletic Club for the next meeting is high class move also.  The Victory Beer Hall in Philadelphia is a bit more casual but looks to be a great venue for this type of meeting and the Ft. Lauderdale Hyatt looks nice also.  Then to top it off PITT will be in the College Hall of Fame in Atlanta which would be an especially cool place to hang out.
In my casual conversations with the attendees I found three main themes; they like Narduzzi's hire and believe he can get the job done at PITT; they understand that it won't happen overnight but are confident he'll be a winner here and finally – they think we'll win between 7-8 games this season.  All those are reasonable and understandable given what we did and heard last night.
There were a few 'wait and see' some skeptical guys but they also liked the hire. It was just that they, as alumni and fans, have been burnt by the Same Old PITT syndrome too many times to go all-inn on Narduzzi.  Again, understandable also as I hold that same view.
PITT should do things like this more often. To me it was ten times more enjoyable then the canned presentations and short time of the LOI Day festivities. Even though there were over 1,000 fans at the LOI Day event it truly paled in comparison.  Granted, this series of three out of town Meet and Greets with Narduzzi is very expensive but if I wasn't so much of a cheapskate I'd have opened my wallet and thrown all my money at then last night.
I highly recommend attending these if at all possible; attractive venues, free food, great people and conversations and PITT football… what more could you ask for?
Here are the other dates and places.
PHILADELPHIA
Wednesday, May 20 –  (7:00 p.m. – 9:00 p.m.)
Xfinity Live – Victory Beer Hall
1100 Pattison Avenue, Philadelphia, PA 19148
DEADLINE TO REGISTER IS PAST
NEW YORK/NEW JERSEY
Tuesday, May 26 – (6:30 p.m. – 8:30 p.m.)
New York Athletic Club – President's Room
180 Central Park South, New York City 10019
(located on the right just after 7th Avenue)
DEADLINE TO REGISTER IS MAY 19
FORT LAUDERDALE
Tuesday, June 9 – (7:00 p.m. – 9:00 p.m.)
Hyatt Regency Pier 66 – Penthouse/Pier Top
2301 SE 17th Street, Fort Lauderdale, FL 33316
DEADLINE TO REGISTER IS JUNE 3
ATLANTA
Wednesday, June 10  – (7:00 p.m. – 9:00 p.m.)
College Football Hall of Fame – The Quad/Hall of Fame
250 Marietta Street NW, Atlanta, GA 30313
Oh – and specialy thanks to Toni Lee (Something Italian) for making the evening so enjoyable…
---