Hope you weren't thinking that you will see FSU visit Heinz Field more frequently than once a decade or so. The ACC released the football home and away crossover match-ups for the next ten years on a nice color coded PDF.
Pitt will face division opponents in the Coastal every year. Those teams are Virginia Tech, Miami, UNC, GT, Duke and Virginia. In addition, Syracuse will be Pitt's cross-division annual opponent. Or "rival" I suppose. That covers seven games. After that it's a rotation through the other six teams in the Atlantic division.
With Notre Dame rotating through five games against ACC teams per year, there is no way that the ACC will be moving to a 9-game schedule. That's what makes the decision to stick with a permanent cross-division opponent so questionable. It is clear that it was done for the benefit of keeping FSU-Miami as an annual match-up. Not to mention placating NC State for not being in the same division as UNC and Duke with an annual UNC game. Otherwise there makes little sense in having permanent cross-over games.
Here's the Coastal Division: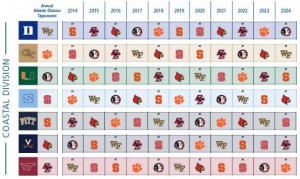 There won't be a home game with Clemson until 2021. BC is 2019. NC State is 2017. Obviously part of the solution would be to rework the divisions to have the actual rivalries stay intact and damn the chances of imbalance in the divisions. Keep the four North Carolina schools in the same division. Let Miami and FSU be in the same. Junk the permanent division cross-over game. This would allow for two cross division games per year. It would still take time to cycle through conference opponents from the other division, but it wouldn't take six years.
This is something the Big 10 finally acknowledged with a more geographic alignment after scrapping Legends and Leaders.
For now, though, the ACC is committing itself to the present format.
---