So the theme in today's stories for Pitt basketball is sharing the ball and assists.
One time it was Pitt power forward Talib Zanna zipping it to a cutting Lamar Patterson from the right corner; the next, center Steven Adams was slipping a bounce pass to Zanna from the high post.

Cincinnati coach Mick Cronin called it inexcusable that Pitt players dunked on the Bearcats' zone defense.

Jamie Dixon finds it inconceivable that the Panthers' passing isn't discussed more, given their propensity for finding open players and for those passes leading to points.

"We're not tops in the country in assists for nothing," Dixon said. "We do it year after year. It's something that doesn't get talked about enough, except for (Pitt radio color analyst) Dick Groat. He's the only guy that seems to talk about our passing."

The Panthers rank among the nation's leaders in both assists (sixth, 17.2 a game) and assists-to-turnover ratio (second, 1.57). They have averaged at least 15 assists a game every season since Dixon became coach in 2003-04, ranking as high as fourth (17.4) in 2010-11 and sixth (18.0) in 2008-09.
Good team numbers.
It's what Coach Dixon wants. A team that doesn't waste too many possessions and tries to get the best shot. Offensive efficiency is what the cool kids call it.
Pitt does not have a prolific scorer, but Dixon boasts one of the most efficient offenses in NCAA Division I. According to kenpom.com, which tracks adjusted offensive efficiency, the Panthers are ninth among all Division I teams.

Adjusted offensive efficiency is points scored per 100 possessions. Pitt plays in a lot of low possession games, so though the Panthers might not be scoring a lot of points (66.2 ppg in Big East play), they are making the most of their possessions.

"We had balance, nine guys scoring," Dixon said of his team's performance at Cincinnati. "We take what's available. That's what we do. That's why our offensively efficiency is so high year after year. We're at the top of the country. You can't rely on one play, one set or one player."
I kind of disagree. Pitt does not rely on one player, per se, but they rely so heavily on the backcourt to keep the offense in rhythm. Those beautiful A/TO numbers. That's really just three players: James Robinson, Tray Woodall and Lamar Patterson. Here are the assists and turnovers by player: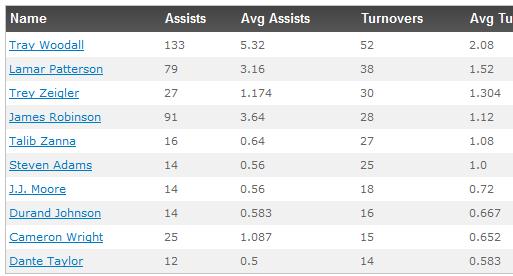 If you look at that, Cam Wright is the only other Pitt player to have more assists than turnovers. The other six players are all below 1:1 A/TO.  It is a measure, though, of Zeigler's improvement from the start of the year that he is inching closer to 1:1. Moore is actually improved from last year when it comes to taking care of the ball (16:37)
We saw it last year when Tray Woodall went down. Not enough guys who were able to take care of the ball. It's better this year on that front with Robinson instead of Gibbs.
This isn't necessarily uncommon. The frontcourt generally has more turnovers than assists. It's that Zanna and Adams aren't even close to 1:1. Wing players like Zeigler, Johnson and I'll lump Moore in there as well. They aren't far off the pace, but should still be slightly above 1:1.
Next year, the overall numbers will be better. With Josh Newkirk coming and the increased experience and skill from the frontcourt players — to reduce their turnover numbers. Of course, when players finish their shots, it tends to help those assist numbers more. That is also something I expect to see improved next year. Pitt's overall shooting percentage.
---