No doubt, you are aware that the Big East web site sell's gear for all member schools. This still includes Pitt. It's nice to see that they have embraced the  Pitt's departure to the ACC.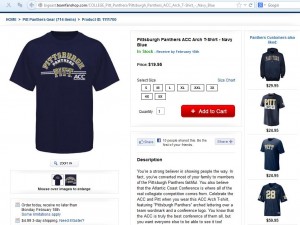 It's the description that really drives it home:
"You're a strong believer in showing people the way. In fact, you've converted most of your family to members of the Pittsburgh Panthers faithful. You also believe that the Atlantic Coast Conference is where all of the real collegiate competition comes from. Celebrate the ACC and Pitt when you wear this ACC Arch T-shirt, featuring "Pittsburgh Panthers" arched lettering over a team wordmark and a conference logo. You know that the ACC is truly the best conference of them all, but you want everyone else to be able to see it too!"
And yes, I know it is simply that the Big East shop is mostly run by a third party on their site who gives the Big East a cut. Still, given the chaos of expansiopocolypse, they may want to curate at least a little.
---