Anyone who has followed Pitt this season knew that Pitt was going to do everything they could to get the ball inside this game. They were going to focus on trying to feed the big men and get more rebounds. There wasn't any secret. Especially against an undersized and young Duquesne team.
The good news: they pulled down the rebounds. The bad news: Water. Boat. Fall. Miss.
Pitt was really, really trying to get the bigs to score — defined in this case as Steve Adams, Talib Zanna, Dante Taylor and J.J. Moore. But it was ugly. At halftime, those four combined to shoot 2-16 (that's 12.5%). And basically that was what was keeping Duquesne in a very ugly first half for the first 12 minutes or so.
Then Travon Woodall had just about enough of that. Woodall didn't even attempt a shot until nearly 7 minutes into the game. Offensively he was deferring. Working with James Robinson in the backcourt to get the ball inside. Passing up shots. As was most of the front court. Woodall, Robinson and Lamar Patterson were clearly focused on feeding it inside or penetrating to the basket.
But there is only so long you can feed it inside for nothing but padding rebound stats: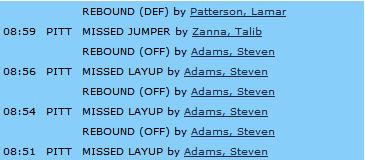 Not shockingly, Pitt shot under 30% in the first half. The defense was solid, though, and Duquesne was held to under 25%.
Woodall asserted himself late in the first half. Scoring 8 points in the final 3 minutes to push Pitt out to a double-digit lead by the half. Now I've made no secret of how much I think of Woodall. This and the last game illustrate why he is a leader on the team and so vital. No, not because he scored 38 points in these past two games (on very efficient shooting). Because he only has 5 assists in those games.
James Robinson is clearly the better point guard and as capable as Woodall at penetrating the lane. What he lacks is a 3-point shot. Woodall very quietly has shifted to playing much more off-ball and being the shooting guard. He, once again, is doing whatever he has to do to help the team. By shooting more and passing less, he is being unselfish.
Any basketball future for Woodall involves him playing point guard. Not as a shooting or combo-guard. He's too small. Too slight in frame. Without any fanfare or public discussion, he pushed that aside for this team. Playing and doing what he is needed to do to help this team.
Woodall is the team captain. He started this season as the clear point guard. And seemlessly moved out of the position for the good of the team. Playing where they need him. The way he works so well with Robinson has been impressive. Deferring to Robinson in running the offense, while being the vocal leader to make sure the rest of the team is in-step.
/end lovefest for Woodall portion
Steven Adams was a force on the boards last night, and even found the basket in the second half. There was a definite boost in Adams confidence as the game went on — not to mention a lot more grabbing rebounds with both hands. Hopefully he carries it over to the next game.
It would be nice if Pitt could get off to a faster start. Something they haven't done since playing in Madison Square Garden at the end of November. These slow starts are a little unnerving.
---