Apparently, now that the CBI is over and the final recruiting push is underway Pitt is pursuing every option and player out there: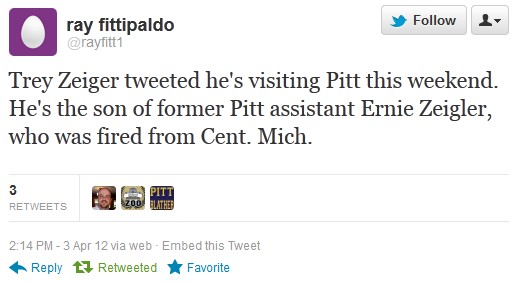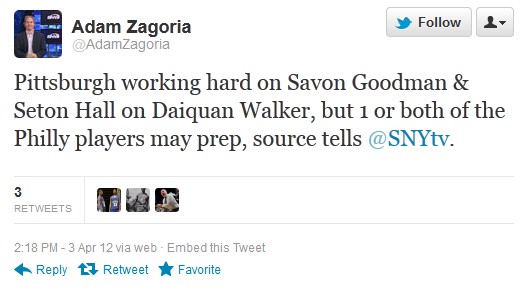 Both are heavily pursued players.
Zeigler was a top-50 recruit in the 2010 class. He opted to play for his father — who was a Pitt assistant under Ben Howland. After Trey Zeigler's father was fired, Trey (not surprisingly) made it clear he was gone from Central Michigan. The most prominent names in recruiting him have been UCLA (Howland, natch) and Duke. Trey has already taken a visit to Duke, but isn't sold yet.
Now the issue with Zeigler is he is a wing/small forward. While a good argument can be made that Pitt needs guards and power forwards, Zeigler's spot is a little more of an issue. There is already J.J. Moore, Lamar Patterson and the redshirting Durand Johnson at that position. In addition, Pitt recently got the verbal from Chris Jones who is also expected to play that position in time. Now Jones, as far as I know, has not signed his LOI (Letter of Intent) yet, so technically Pitt could revoke his scholarship.
Complicating things further, is the fact that Zeigler is seeking an NCAA waiver to play immediately because his dad was fired (no I'm not sure how it would play out, but I think there is some precedent). Honestly, though, Zeigler seems like a long-shot and something of a luxury. Still, how do you turn down a 4-5 star player who already has a year experience?
As for Savon Goodman, I hadn't heard about him in some time. He committed and then decommitted from Villanova. There are concerns about his academics (Insider subs.) — hence to comment about prep school. He's also a very talented consensus 4-star player. ESPN.com lists him as the 98th best player nationally. Scout.com says 89th. Rivals.com chimes in at 53d.
He is listed as both a small and power forward. The potentially exciting thing is that he sounds a bit like a mix of Sam Young/Chevy Troutman type player for Pitt (or worst case, Nasir Robinson) — which would make him a fit at power forward in Coach Dixon's style.
From Scout.com's evaluation:
Goodman looks like he could play football as well as basketball. There is no better physical specimen in the class, and he uses that strength and athleticism to his advantage. Goodman loves to drive to the bucket and finish through contact. Also he attacks the glass.
On the down-side his shooting — especially from the perimeter is a work-in-progress. Then again, so was Sam Young early on. And this from ESPN.com:
Goodman is a blue collar forward that scores above the rim on the break, attacks defenders from the high post and along the baseline and has recently showed the ability to hit the open three with time and space. He is a big time finisher and also does a great job of drawing fouls because he welcomes contact. Goodman has a good basketball IQ as well. He reads defenders and cuts to the basket and is a willing passer when he draws a second defender. Goodman rebounds on both ends in and out of his area and can defend both forward positions. Goodman plays with great effort at all times and is productive on a consistent basis.

…If he can continues to build his perimeter game the sky is the limit on how good he could become. He's the ultimate tough guy and competitor.
Prep or not, I want Pitt to keep pursuing Goodman. If not for this class, then for 2013.
---