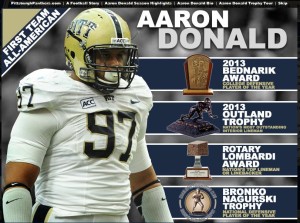 Not bad for a guy who wasn't even on the pre-season All-ACC team. Who should totally be crashing the Heisman Ceremony on Saturday as a special correspondent for ESPN just to create tremendous awkward comedy.
But, no. Aaron Donald has something else on his mind for the weekend.
Just like Donald has been all season and how he plans to be starting Friday when Pitt will begin preparing for the Little Caesars Pizza Bowl on Dec. 26 against Bowling Green.

"I'm real excited to get back in that film room and start studying Bowling Green and get ready to play another game," Donald said. "Even though it's cold (in Pittsburgh), I'm missing it."
The week-long awards sweep even got Coach Paul Chryst to break out his highest praise.
"It wasn't just one flash," Pitt coach Paul Chryst said. "He kept producing and word got out and I think he did it in big moments.

"I thought it was really neat to see the people really took note of what he did on the field. I thought he earned it the old fashioned way or the right way by what he did on the field."
When Coach Chryst breaks out the "neat," you know it's something special.
---