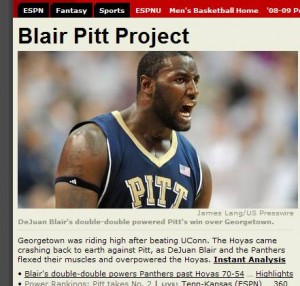 Not a surprise to be the lead at ESPN.com's college bball page
My less homerific recap of the game is at FanHouse.
Maybe I'm just negative, but I am holding my breath to find out what the status of Gilbert Brown and his left shoulder is. Hopefully it's just a stinger and they didn't feel like risking anything. This and the Rutgers game, was showing how much better and confident he was feeling as he was coming back from various injuries.
It is no exaggeration to say that the only thing keeping Georgetown in the game for the first half was DaJuan Summers. 16 points on 6-9 shooting and 3-3 on threes. And he was doing that even with the defense on him. He was — as Dan Shulman put it — shooting over the defense. Not much you can do when a guy was that hot. The rest of G-town was shooting 3-18, 1-7. Well, the FT shooting helped them too. They went 8-10.
In the second half, even as Georgetown initially got closer and even, I was a little less worried. The refs were letting the teams bang a bit more inside. I was annoyed at first since Pitt was being hacked, but then it became apparent that the refs were calling it both ways, so that only helped Pitt with controlling the paint. Georgetown looked unwilling or unable to battle in the paint.
Georgetown went with the typical strategy of doing everything to keep Pitt on the perimeter. To try and deny the ball inside. The problem was that while Pitt shot poorly on 3s again, Georgetown was in no position to get rebounds. They had no answer for Blair. But Biggs, Young and plenty of Pitt players were getting right in there to grab the ball. Plus, while Pitt may not have made from outside the perimeter, the Panthers were 29-49 inside the arc.
I'm still waiting for Levance Field to come around on offense. His shot has no touch or confidence. Like those of us watching, it seems that he isn't sure what will happen when he shoots.
It is a joy to see the light go on for players. It's been that way for Biggs all season. For Brad Wanamaker it seems to have happened in the past couple games. He looks so comfortable coming into the line-up right now. He knows what he's supposed to do and is embracing it. He doesn't look intimidated out there.
Almost lost in all of this was Sam Young. He struggled a little in the first half — clearly trying to show friends and family — but was the team player he thrives as in the second half. He finished with 14 points and 8 rebounds.
Oh, and this.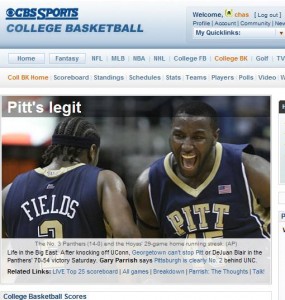 ---