The Cardiac Hill blog is running a "Bracket of Pitt" series that has  'all things Pitt" subjects listed much like we see during the college basketball NCAA tournaments.  Here is how they describe what they are going to do:
"The Cardiac Hill Podcast has a new segment; the Bracket of Pitt. It's a 64-item bracket of everything Pitt. People, places, things, etc., basically if it has anything to do with the University of Pittsburgh, it's in. I'll be hosting the tournament primarily with Jim Hammett of Cardiac Hill. We'll post the first episode here (and on SoundCloud) tomorrow with me & Jim discussing the bracket and you can vote for the matchups @CoreyECohen on Twitter; one vote per person. Each week we'll put out a new episode discussing your results and advance the bracket accordingly! Let's make some May Madness here at Cardiac Hill, we can't wait to debut the #BracketOfPitt!"
This sounds like an original and fun idea and will fill up some of the Pitt sports dead time from now until the football Fall Camp opens up in early August.  Here is what the bracket looks like as a snapshot but click on this link to see the details.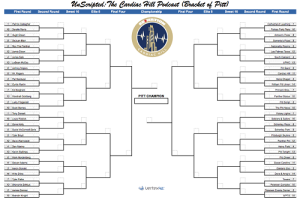 Guess The Pitt Blather didn't make the cut.