Less then a week to the first game. I'm ready to hit the turnpike now. Head Coach Pat Narduzzi had his press conference today, and the game notes with the depth chart (PDF, p. 3).
That's the big thing. Plenty of speculation, but between injuries, key suspensions and players kicked off the team; there have been some questions.
Shall we parse?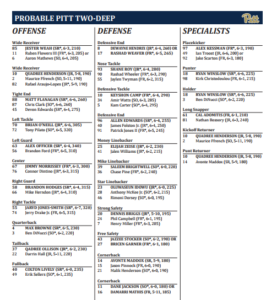 Starting with the offense.
There has been speculation with the O-line, with players being cross-trained for positions. In the end, the only surprise (for now) is redshirt freshman and former walk-on Jimmy Morrissey getting the start at center. Whether Alex Bookser takes over as the starter after his 1 game suspension is an open question (probably).
No real surprise with the starters at Wide Receiver (Weah and Henderson), nor with the guys listed right behind them.
The only surprise with Running Back, is that it only lists Quadree Ollison and then Darrin Hall. Sophomore Chawntez Moss and the talented freshmen did not even get listed as the third option.
At Tight End, graduate transfer Mike Flanagan is listed ahead of the talented, but still mercurial Chris Clark. To be honest, I expect to see both of them out on the field together a lot more in place of the fullback spot — which lists two walk-ons while George Aston is out with injury.
The only other thing worth noting on the offense is that outside of the receiving corps, the depth chart sticks to only two-deep.  It's still far better then Michigan under Jim Harbaugh continually stupid games.
On the defensive side, there are less surprises. Again, between injuries and suspensions, the depth chart has almost been known and set for a few weeks.  Free Safety is shared by Jayzee Stocker or Bricen Garner (while Jordan Whitehead is suspended).
Cornerback is led by Avonte Maddox, but the injuries to Hamlin, Coleman and Motley impacts the other starter and of course the rest of the depth chart. Dane Jackson who saw action last year because of the litany of injuries at the spot is co-starter with freshman Damrri Mathis. The other freshman, Jason Pinnock is listed behind Maddox.
As for the Narduzzi presser, he was in what I would consider a playful mood. Talking up YSU as you would expect. Not willing to reveal too much, other then conceding that if at all possible the offense will be fairly vanilla — much like last year.
He did get some questions regarding the running backs and lack of players listed behind Ollison and Hall.
Q. Has there been separation at running back or are those guys still sort of technically together?
PAT NARDUZZI: They're a big pile in there. It's another one of those things, it comes down to game day. Quadree has obviously had more reps lying back there, and we've seen him do it. Darrin Hall has gotten good. I could throw more 'ors' on there as you want it after that if you really wanted me to do that, but there's some young guys that have really stepped up. I mean, AJ Davis has been impressive.

…

Q. Talking about the backs, Moss isn't on there. Is he just a step behind or will he still get some runs?
PAT NARDUZZI: We'll find out. It comes down to getting reps, and Moss isn't on there, but AJ Davis isn't on there, Sibley is not on there, probably somebody else we're missing on there, as well, but it comes down to getting enough reps to be a guy that you'd want to put on that two deep and feel comfortable. Those are our first two guys going into the game Saturday. I can tell you that. If they're not going on, then we'll go to the third guy. But those are the first two guys that you'll see in the game, unless something crazy happens this week.
Hopefully it will be a nice blowout where lots of reps are handed deeper down the roster.
---