In case you missed it, Donald Trump endorsed necromancy, Lynn Swann is the AD of USC, and Tubby Smith is going to Memphis after Pastner went to GT. All boggle the mind in different ways.
In the realm of sanity, the coaching staff for Kevin Stallings looks pretty damn good with the final hire.
University of Pittsburgh head coach Kevin Stallings announced the addition of Kevin Sutton to his staff Wednesday afternoon. Sutton joins Tom Richardson and Jeremy Ballard as an assistant coach for the Panthers after spending the previous three seasons at Georgetown.

"I got to know Kevin in 2007-08 when we were recruiting one of his players out of Montverde Academy," said Stallings. "He has a wealth of experience and is an excellent teacher and mentor. Kevin is well connected in the recruiting world particularly at the prep school level and within the ACC footprint. When you ask people in the profession about Kevin the feedback is extremely positive and flattering. I am very excited to have him on our staff."

Sutton, a coaching veteran with 27 years of experience, joined the Georgetown staff in 2013. He helped the Hoyas to a 55-44 record with a pair of postseason appearances. In his second year with the program, Sutton saw the Hoyas go 22-11 overall and reach the second round of the NCAA Tournament.

Sutton arrived at Georgetown following two seasons as an assistant coach under Mike Lonergan at George Washington. He also had a pair of two-year stints as an assistant coach at both James Madison and Old Dominion.

In addition to his collegiate coaching experience, Sutton coached at five nationally-ranked high school programs – Flint Hill Prep, Harker Prep, St. John's Prospect Hall, Montrose Christian and Montverde Academy – amassing a 489-102 record and winning two national championships. In 1998, he was the associate head coach on the USA Today Super 25 National Championship team and in 2007, he was the head coach of the Montverde Academy Hoops.com National Championship team. He also coached Montrose Christian and Montverde to second place finishes in national championship tournaments.

Sutton has also been selected as a coach for USA Basketball on three different occasions.
Given where he was an assistant and the prep schools he coached, Sutton will be a strong presence for Pitt in the Baltimore-DC area.
College basketball writers who follow the recruiting aspect closely liked this hire a lot.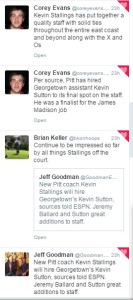 Hiring away from Georgetown is a nice plus. Sutton was a candidate for the James Madison head coaching position this year. He's still active in the Nike skills camps. Generally seems like a basketball junkie. Respected for both dogged recruiting and coaching skills.
The budget for hiring assistants was definitely opened up a bit more. A focus definitely on the entire East Coast. On paper, the right moves appear to be happening. Reality is still a question mark.
---