Just best to stay out of Reed's way when he's rolling like this.
So, just to note that while the full schedule of dates, times and TV appearances have yet to be released; ESPN did announce their Big Monday schedule. Pitt gets two appearances on the ACC slate.
January 19, 7pm at Duke
February 16, 7pm at Virginia
Disappointing not to get a home Big Monday game, but Pitt is featured in 2 of the 8 ACC Big Monday games. The same number of appearances as Duke. UNC and Virginia each have three appearances. Louisville and Syracuse make only one appearance each. Not too bad for a team that will be considedred 6th to 8th in the ACC preseason polling (some combination of Virginia, Louisville, Duke, UNC and Cuse will be most prognosticators top-5).
I find this college basketball hatemap to be about right.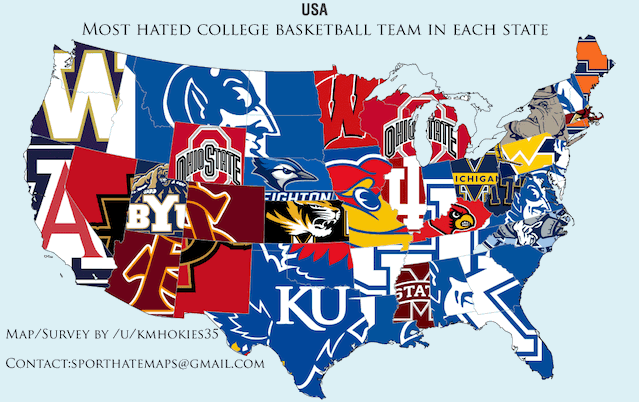 Pitt goes to the Bahamas and romps through the opponents and its mostly jokes about the opponents fitting right in with the non-con.
Kentucky is next to go through the Bahamas and people are covering them and actually treating the games like they matter. That's a key difference when you have an insane fanbase, a network getting going (SEC Network/ESPN) with a lot of money and promo power to start support early, and a preseason top-5 team.
Seth Davis visited Pitt and talked to Pitt. Especially on the perennially weak non-con.
Finally, I had to press Dixon on his much-criticized scheduling philosophy. Last season, Pitt's nonconference schedule was ranked 215th in the country. Its best win outside the ACC came over Stanford on a neutral court. Dixon managed to defend himself without sounding defensive. Mostly, he sounded surprised – and flattered – that his program was being held to the same standard as bluebloods like Michigan State, Kentucky and Kansas, which regularly put together murderous nonconference slates.

To be fair, Dixon has regularly entered Pitt in a high-end early season tournament like the Maui Invitational, which it is playing in next season. When a coach commits to those events, he usually does not know which other teams will be in the field. Also, like the rest of the coaches in the ACC, Dixon has no say in which opponents his team will face in the ACC/Big Ten Challenge. Last year, the Panthers played Penn State, which they beat at home, 78-69. "If we get Michigan for that game, people look at our schedule differently," he said.

There's also the annual game against Duquesne, which Dixon rightly feels obligated to play. Beyond that, well, it's not like teams are itching to schedule home-and-home series to visit the Petersen Events Center, where Pitt has compiled one of the top five home winning percentages in the country. Dixon laughed as he recounted a conversation he had last year with a Big East coach whom he'd called to try to set up a home-and-home series. "How many times do I have to tell you?" the coach replied. "We're not f—— playing you."
I don't know who the coach was. My guess is that Pitt would have been most eager to do home-and-homes with either St. John's (NYC/MSG/etc.) or Villanova. And I can also see both schools not wanting that. Hard feelings aside, not wanting to let Pitt have more chances to recruit in their backyard would be a big deterrent.
---