I'm not sure why the ACC starts media day on a Sunday. Other than to make it as clear as possible to BYU  that they will never receive an invite. I mean, it doesn't seem like a bad deal for the media. Prepare the stock "Five things for ACC Media Days" column in advance. Show up on a Saturday to the nice resort hotel. Get one free night to party and have a good time. Nurse the hangover. Put the digital recorder on the podium and let those stock questions flow to the players.
I mean, it is media day. It isn't really about the media any longer, as we saw from the 4-day long SEC event. It is about marketing the conference to everyone else. It is about getting the fans ready for football season. It is the starting point to coverage for the new season.
For the Coastal Division (Pitt's), the only certainty is Virginia for the cellar. After that, it seems like a crap shoot. Virginia Tech, , UNC, Miami, Georgia Tech, Duke and even Pitt received at least one vote in the preseason poll to win the Coastal. Pitt is a popular "dark horse" pick because of the  schedule, but still ended up being picked 6th in the division.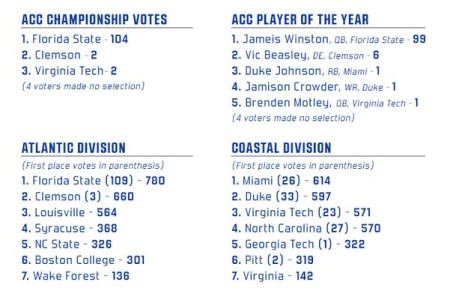 After all those years of the Big East coverage, it is still an adjustment to see that many votes for a conference media poll.
Coach Paul Chryst was typical in his reaction to where Pitt was positioned.
"We're all experts, huh?" Chryst joked with a smile.

The projection puts Pitt exactly where it finished in 2013. It finished sixth with a 3-5 conference record.

Miami, Duke, Virginia Tech, North Carolina and Georgia Tech were picked to finish ahead of the Panthers, with Virginia bringing up the rear.

In a sign of the parity within Pitt's division, six of the seven Coastal teams received at least one first-place vote (Virginia was the only team that did not). Pitt received two first-place votes.

"I think all you needed was last year to prove it," Chryst said of the parity within the division. "Not just what Duke [winning the division] did but across [the board]."
Like many, I struggle to understand how Virginia has been this bad. They have some legitimate talent, and have recruited really well. Mike London seemed like a good hire at the time. Now he is coaching for his job and most people don't see it happening.
Pitt's player reps at Greensboro, Ray Vinopal and Tyler Boyd, did not duck any expectations.
"If you talk to Tyler or [sophomore running back] James Conner, they're not going to say, 'Yeah I'm ready in two years,'" Vinopal said. "I know those guys are trying to win this year. That's all I need to know."

Vinopal didn't shy away from concrete goals, either, saying that he wants to end his college career with at least a 10-win season in 2014.

"I think it's a very realistic goal," he said. "Pending that we execute like I said and don't lose focus."

…

And, like Vinopal, he agreed that Pitt has the talent to make waves in the ACC. Not two or three years down the road, but right now.

"I feel like we've got the guys to compete with whoever we're going against to win," Boyd said. "If we play as a unit, we're going to be even stronger than we were.

"I'm tired of being an average team. I want to be greater than that."
Have to admit. I want that quote to be the mantra of this team this year.
The problem with the dead mediocrity Pitt has had the last few years is that you can talk yourself into either way. A little better play, a little more luck, a little better coaching, less injuries, etc… and Pitt could have won 8-10 games each of the last few years. So close it would seem. Conversely it could go the other way and Pitt may have been looking at 3-4 win seasons. No where near the rest of the better teams.
Vinopal also sang the praises of the new strength and conditioning program.
"The strength and conditioning program was good under (former) coach (Todd) Rice (who resigned in December). He knew his stuff," Vinopal said. "But it wasn't necessarily focused on pushing our players to a point where you felt like you were in the fourth quarter of a game; or it's tough and how are you going to perform when you feel that way? You feel fatigued.

"Now, guys are really being challenged and I think it is really going to carry over to the game in the fourth quarter. Now, guys can say on that 10th rep I ran those stadium steps at Heinz, I felt like I couldn't do any more and did five more and I did them as perfectly as I did the first 10."
We will see. Never was a fan of Todd Rice, and the warning I received about him from a BC buddy was dead-on. My issues with the present S&C coach are well known, and not worth re-re-hashing.
---