Okay, I really would love for this to stop at some point. Yet Fraud Graham makes it just too damn easy.
Chris Peak at PantherLair passed this along.
RT @WACJack: OK, I admit to laughing at Todd Graham making his players sign a commitment pledge: http://t.co/KRcPmoPY

— Chris Peak (@PantherLair) August 1, 2012
What is the image? Oh, this: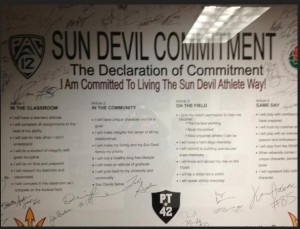 Funny thing. Last year, Fraud Graham was trumpeting a similar declaration of commitment. Only it happened to be "The Pitt Way." And yes, he made all the Pitt players sign that big sign as well. Hell, it just happened to end up as the interior cover shot for the 2011 media guide.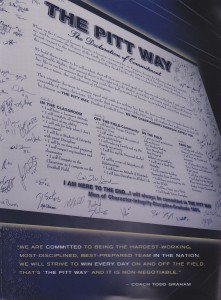 The irony of course is rich with the whole issue of commitment and Fraud Graham. But what is really astounding is that Graham keeps trotting out the exact same speeches. The exact same gimmicks. Acts like these are somehow unique and original things that he came up with just for his latest dream job. And somehow thinks no one will notice.
The good news for Paul Chryst is that he can keep saying very little, and look better and better for Pitt.
---