The Pitt football beat writers all swear that Coach Paul Chryst is a nice, engaging guy. Very smart. That he has a dry, wry sense of humor. And that he is friendly enough individually. They also acknowledge that he absolutely does not show any of that in press conferences.
And man, did that show up in his ACC and then ESPNU interviews.
At 2pm the ACC streamed his press conference, after which Chryst moved to the ESPN truck for his interview on ESPNU.
Now I'm not saying I've seen videotaped hostage demands with slightly more enthusiasm, but…
I mean Chryst is just plain uncomfortable with this part of things. I'm talking Jamie Dixon in his first couple years bad.
He's never going to be at ease in front of the camera, but at some point he's got to get to a point where he at least looks like he isn't doing the interview at gunpoint.
On the plus side, he doesn't look the most uncomfortable to be in the group coach picture.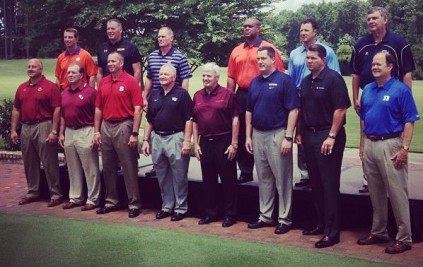 I put him at at least third behind Al Golden and Paul Johnson. Dave Cutliffe, by the way, totally looks like an 11th grade English teacher.
---