In the aftermath of the ACC Grant of Rights, it has been a lot of fun to take potshots at the numerous Hoopie message boarders and Twitiots who have spent the better part of a year flogging their sources for the imminent demise of the ACC.
The rumors and whispers of an ACC grant-of-rights have no basis in fact.

The beleaguered conference is not close to signing a grant-of-rights and discussions about one have been met with stiff internal resistance.

Internal resistance that my sources say could only be overcome by a significant increase in television money that puts the ACC on par with the Big 10, Big 12, Pac 12 and SEC.

Money like that could only come from a 24-hour ACC branded sports channel much like the Big 10 Network or the upcoming SEC Network and that doesn't seem likely. Why not? Why shouldn't the ACC, with perhaps the largest media footprint of any conference, be able to launch its own network?

It's simple economics — ESPN won't let them. ESPN owns the ACC's tier 3 television rights (along with Raycom) and doesn't want the ACC competing (in much the same markets) with the SEC channel set to debut in 2014.
I don't think there was an ACC-based blog or twitter account that didn't either get directly hit with this stuff or had to address it in some form from a reader for the past year.
So, when the Grant of Rights by the ACC came out yesterday there was a very amusing — and earned — outpouring of derision at the spectacularly wrong sources of so many levels of crap.
I'm going to start the Missouri to B1G rumors. Maybe I can be TheDudeofWF.

— Jake S (@BloggerSoDear) April 23, 2013
and
RT @nunesmagician: "Not a great day for Blogspot realignment blogs" – @jasonkirksbn. Or message board commenters with "sources"

— BC Interruption (@bcinterruption) April 22, 2013
and
Of course Barron did actually call out the WV blogger in a speech one time so signing this could just be the biggest troll of all time, too.

— D.C. Reeves (@Warchant_DC) April 22, 2013
Well, you get the idea. They made a nuisance of themselves to everyone. So, there was a lot of earned potshots being taken. I won't pretend that I didn't enjoy it.
Now lost in all of this is a simple truth. WVU was absolutely correct and had no choice but to go to the Big 12.
They weren't going to get a call from the SEC. The Big Ten and ACC wouldn't even sniff their academic standings. The Big 12 was their lifeline.
They might not find it a great fit. There are definitely struggles to readjust to recruiting in this new order. And their travel costs and issues are a huge pain. But, that said, it beats the hell out of being in the American Athletic Conference. Cinci would leap to the Big 12 in a second. UConn would probably as well. As would USF — oh, wait, at least one WVU loon is already saying that will happen and it will be spectacular.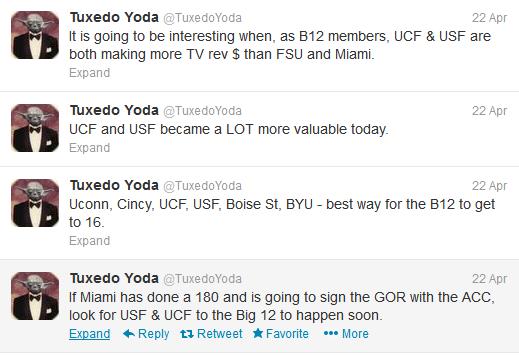 And that's the issue. For a bunch of Twitter loons and Hoopie message boarders it wasn't enough that their beloved Mountaineers managed to find an (expensive and ill-fitting) escape hatch from the sinking Big East. The ACC — for whom they thought they should be a part — must die for their sin of not accepting the grace of West f*****g Virgnia in their midst (not to mention picking Pitt over WVU).
They couldn't just leave it at theories or even admitted (and obvious) speculation. It had to be true! They had to be the "My sources" guy that every message board — regardless of topic or nationality has. So they have tried to spin the fantasies of ACC demise. Pushing the theories on all who didn't think to block them on Twitter.
It hasn't happened, and now they cling to their delusions. Trying to pretend that it was all so close.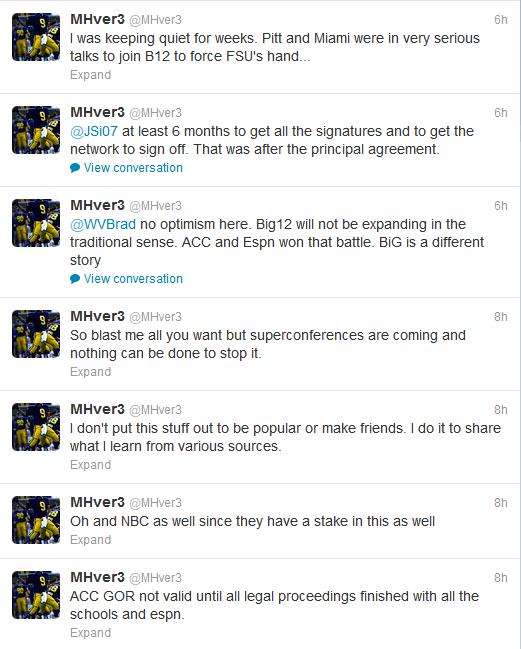 They do make me smile, though.
---