We've known the opponents for a while. Just not the order.
We now have the order. Other then the ND game, times are TBA.
Sept. 1              Albany 
Great Danes head coach Greg Gattuso was an assistant at Pitt from 2005-10.
Sept. 8              Penn State
Pitt won 42-39 at Heinz Field in 2016, while the Nittany Lions triumphed last year at Beaver Stadium, 33-14.
Sept. 15            Georgia Tech*
For the second consecutive year, the Panthers will open ACC play against the Yellow Jackets.
Sept. 22            at North Carolina*
The last seven games in the series have been decided by an average margin of 4.0 points.
Sept. 29            at UCF
The Golden Knights were the lone Football Bowl Subdivision (FBS) team to finish with an undefeated record last year.
Oct. 6                Syracuse*
The Panthers have won 13 of the past 16 games against the Orange.
Oct. 13              at Notre Dame
Pitt makes its first visit to South Bend since 2012, when the Panthers fell 29-26 in triple overtime to the eventual BCS runner-up. The 2018 game will be a national NBC telecast at 2:30 p.m.
Oct. 27              Duke*
Darrin Hall rambled for 254 yards and three touchdowns in Pitt's 24-17 win at Duke last year.
Nov. 2 (Fri.)    at Virginia*
Pitt is 4-1 against the Cavs since joining the ACC in 2013.
Nov. 10             Virginia Tech*
Since the stadium's inaugural season in 2001, the Panthers are 4-1 all-time against the Hokies at Heinz Field.
Nov. 17             at Wake Forest*
The Demon Deacons seek a third consecutive bowl victory in 2018.
Nov. 24             at Miami*
Freshman QB Kenny Pickett accounted for all three touchdowns in Pitt's 24-14 shocker over the No. 2 Hurricanes to close the 2017 regular season.
Here's a simpler looking layout.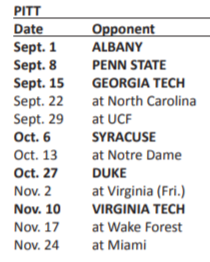 Yes, this is a difficult schedule. If you look at the rest of the ACC, no one even comes close to matching that non-con.
What jumps out at me is no Thursday home game this year. In fact the only non-Saturday game is a Friday night at Virginia.
Also, Pitt plays 8 straight weekends. No bye week until mid-October. After the ND game.
Three straight home games to start the season and it ends with two roadies that finishes down in Miami.
There's no way I can even begin to consider the potential wins and losses at this point. No idea how much of a drop-off UCF will have. Same with Penn State now that they had to change OCs and Saquon Barkley is gone. ND lost both coordinators after having to change them the year before. How improved will Virginia be? Or Duke? Or UNC? VT has another weak-ass schedule, so how good will they really be? You mean I now have to be aware of Wake Forest?
In future schedule news, Pitt announced the 4-game series with West Virginia starting in 2022 has a new game day. It will be the season and home opener for Pitt on September 3, 2022. Yeah, it's still 4 years away, but adjust your schedule accordingly.
---