Haven't done one of these in ages.
Joey Coogan from The Key Play — your best source for VT news and analysis — reached out to do a Q&A ahead of this weekend's game. My responses to his questions came out yesterday.
Like Pitt, the Hokies are coming off a frustrating and disappointing loss. In their case, to Georgia Tech. Both shared "honorable mention" in last week's Misery Index.

1. Georgia Tech threw the ball to devastating and hilarious (to everyone not wearing maroon, because simply saying, "GT passing game," elicits giggles) effect. How? Was it simply the defense overcommitted to stopping the ball on the ground or is there something more going on with the secondary? As I was typing this, I see that VT has announced that Safety Terrell Edmunds is done for the season. Which begs the additional question of how this effects the VT secondary?
Georgia Tech completed two passes against the Hokies, but they certainly made them count. The first — a 60 yard bomb on 3rd and 18 — was especially inexplicable. Bud Foster claimed the Hokies were in the right coverage, but Terrell Edmunds seemed to drift towards the sideline a bit too much and got beat deep over the middle for a walk-in score. The second was perhaps more understandable, with Mook Reynolds getting caught over-committing to the run as a streaking receiver slipped past him. Either way, it's fair to say the secondary had their worst game of 2017 against the Bees.
Regarding Edmunds' injury, it'll likely be a few guys stepping in to fill the void. Reynolds and redshirt freshman Khalil Ladler are the first two options at safety, leaving Anthony Shegog and Deon Newsome to handle the nickel/whip linebacker position if Reynolds indeed makes the switch. Shegog was fantastic against Georgia Tech, so it wouldn't shock me if he sticks in the starting lineup for another run-heavy Pittsburgh team.
2. Justin Fuente seems to have less confidence in the offense. As he commented after the GT game. At first blush it seems surprising with a 7-3 record and some gaudy point totals. Looking at the schedule after the WVU game (and we were all behind you guys for that one), it seems that the competition made it easy to miss. What are the issues with the offense in what was admittedly expected to be a transition year for the Hokies?
Oh boy, where do I start?
Josh Jackson has cooled off after a decent September, reverting back to what you'd expect to see from a freshman quarterback. He's been indecisive at times, isn't much of a running threat, and seems to be a little banged up coming out of the Miami loss.
The offensive line has struggled in pass protection over the last few weeks, which doesn't help when you can't…
Run the football.
Oh, and outside of Cam Phillips (and maybe freshman WR Eric Kumah), the Hokies lack playmakers on the outside.
I think that about covers it.
3. Best bourbon for this Saturday?
Timely question. Wild Turkey 101, and lot's of it.
[Editor note: I walked right into that one. No excuses.]
4. Why do at least some fans get so riled up when someone refers to Virginia Tech as Va. Tech rather then VT? Whether in some printed medium or on twitter? It seems like a very vocal minority get very excised about this beyond simply trying to get the person to correct it.
I actually have no idea. While I suppose I'd prefer Virginia Tech over Va. Tech, it's not high on my list of things that get under my skin. I'd probably just attribute it to random people on Twitter being the worst. Unfortunately, it does seem to be spreading into other channels as well.
5. The upside to having a down year is all the talk of your coach and/or school on the CFB coaching carousel is minimal. (I realize it isn't something you aren't as intimately familiar with as Pitt fans, so you have to trust me on this). This means that you can sit back and watch the chaos. What scenario are you looking for to cause maximum chaos and or fan meltdowns?
I think Justin Fuente is staying put for the long haul, and back-to-back losses against Miami and Georgia Tech certainly quieted the articles proclaiming his as the next great option at Florida. Looking across the college football landscape, I'm definitely most interested to see what happens at Tennessee. The ideal scenario would be hiring Jon Gruden (#GRUMORS), if only because he would make college football infinitely times more entertaining. I'm a little depressed they fired Butch already, just because we enjoy wallowing in the misery of Vols fans.
One under-the-radar hot seat I'm watching is Jim Harbaugh (OK, it's not hot yet, but give it time). Michigan's offense was miserable (again) to start the year, but admittedly has improved under sophomore quarterback Brandon Peters. That said, closing the season with Wisconsin and Ohio State probably means an 8-4 year for Harbaugh. I get he's an unbelievable recruiter and has a great track record, but he's also never finished above third in the Big Ten East.
6. What would be the psychological impact on VT fans if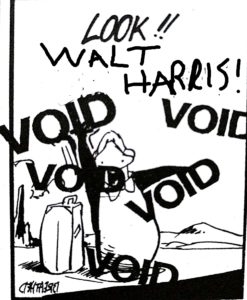 Walt Harris happened to be on the sidelines this Saturday?
As a recent Tech grad, I'm too young to appreciate the Walt Harris lore. Given that, anything but Pat Narduzzi throwing sideline temper tantrums would be a painful disappoint for Hokies everywhere.
7. I imagine you are picking a Hokie win, so my question is how do you see the win unfolding?
As we hinted at on The Key Play, I think this line (-15.5) is way too high. That said, I do think the Hokies will find a way to win. I'd expect a relatively low-scoring game, with the Hokies hitting Cam Phillips for a few big plays over the middle to get on the board early. From there, I still have some modicum of trust in this Bud Foster defense to hold Pitt in check. Give me 24-13 Tech.
---
Thanks Joey. Enjoy the weekend, but hopefully not the game.
---