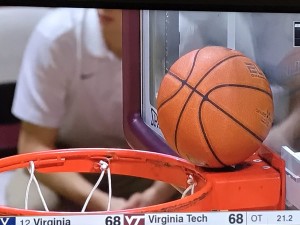 If you were one of the handful of people watching the Virginia-Virginia Tech game, then you were treated to this incredible moment.
That wasn't just a well-timed photo.
I was lucky enough to have turned for the last 10 minutes or so of regulation, and was treated to watching that really happen and Virginia-VT go to double OT on a Sunday night. London Perrantes drive somehow died there. Not wedged between backboard and rim. Just died on the back of the rim. Which, it turns out, is a "jump ball" situation. Meaning possession arrow determines for college basketball. VT got the ball. Didn't score and the game went to the second OT where they finally won.
Oh, and VT will be at the Pete on Tuesday night.
Really don't think fatigue will be much of a factor despite a less than 48 hour turnaround from when the game ended to the start time tomorrow. More likely could be the possibility of a letdown after a big emotional win against their in-state rival.
In other ACC stuff, there is the question of job security.
Clemson Coach Brad Brownell is starting to get questions as they fall to 3-10 in the ACC. Amazingly they are 39th in KenPom rankings. The best way to compare them is as either a slightly worse 2015-16 Pitt team or just unluckier. Lost to UNC in OT by 3. Lost at ND by 5. Lost to Virginia by 4. VT and Cuse beat them 82-81. Lost at Duke by only 2. Six losses by a combined 16 points. They have been just good enough to lose close (mostly). So, despite the record, the computer numbers still look good.
But at the end of the day, Clemson is 13-11 overall and their best win is at Wake Forest. Aside from his first season (2010-11), Clemson has missed the NCAA Tournament every year since.
Clemson may care about basketball as much as Alabama, but when your in-state rival has rebuilt itself and is heading to the NCAA Tournament pressure increases. Obviously the ACC is tough to maintain traction when not a top team. And when you compete for recruits in the same geographic area as the North Carolina schools. But sooner or later the results matter.
Brownell has not been able to find enough missed talent and develop them. That was the plan, but it just hasn't happened.
On the opposite end is NC State and Mark Gottfried. If you followed his trajectory at Alabama, then you knew this sort of thing was coming. It was just a matter of when and how long the extension he had signed would inflate the buyout. Here's the best piece you can read wrapped inside a game recap.
State's season is a train wreck. There's enough talent on this team to compete in the ACC. But after its third league loss of 25 points or more, the first time that's happened since the 1993-94 season, Gottfried suggested time might be running out.

"I don't think you can re-invent things at this point," he said when asked if there is anything he can do to turn the season around.

Smith said the team could start to play harder and at least try to save the season.

"It's effort," he said. "It comes down to playing with heart."

Smith was among the top recruits in the country when Gottfried flew to Fayetteville's Trinity Christian School to convince Smith to come to State over Kentucky. It was considered a coup and signaled the beginning of an era of good feeling at N.C. State.

That's over.

People are discussing Gottfried's future now. They're no longer discussing the program's potential. His contract, which was extended after he signed Smith in 2015, runs through 2020.

This team was to be his best ever. Now he appears to have lost it.

State fell to 14-12 (3-10 ACC) with five potential losses to come. Now with five straight losses by a total of 91 points, the Pack will host Carolina on Wednesday, the team that beat State by 51 in January.

Things have gone from bad to worse with Anya missing the FSU trip for an undisclosed disciplinary violation and offering to meet a fan on the court Saturday only minutes after Smith walked to the State bench and told Gottfried to take him out of the game.
On paper, Gottfried seems like the coach you want. An excellent recruiter, who concedes nothing and wins a fair share of those battles. Flat out one of the best you can find. A proponent of up-tempo, offensive basketball. Where the game flows and the players are unleashed. Media friendly and open to the fans as well.
He was also the best they could do after NC State publicly aimed high (for the second time) and were spurned.
The next spring saw State fans putting out the last of the smoldering embers of shit from the 2010-11 season. Sidney Lowe was fired and went whistling his way back to an NBA assistant coaching gig. An unceremonious departure for a Wolfpack Hall of Famer who basically did them a favor after they were spurned publicly by Rick Barnes, Steve Lavin, John Beilein, and John Calipari.

NC State AD Debbie Yow opened her search with Sean Miller before moving on to Shaka Smart and Gregg Marshall. Yow, to her credit, was and continues to be very open with the fan base. She ended up issuing a statement to more or less temper the expectations of NC State fans before she announced the person who accepted the job.

Mark Gottfried was announced as head coach 24 hours later.
Unfortunately, with Gottfried, it stops right about there. The one thing he can't do is coach a whole season. NC State, for all the talent. For all the potential. The Wolfpack has bumbled and stumbled through every season. The best you can say is that they have gotten it all together in the second half of conference play. Parlaying eking their way into the NCAA Tournament into a couple runs to the Sweet 16 where all is forgiven for what came before.
Gottfried at NC State is the living embodiment of what Syracuse Coach Jim Boheim said over a month ago — after beating Pitt — in response to a local columnist.
"Also, one quick thing," the Hall-of-Fame coach announced following five perfunctory minutes of give-and-take about the triumph just earned. "If you go to the Final Four, you can lose 20 games and it doesn't matter. Last year was the fifth best year I've ever had here. Ever. Forty years … fifth best year."

Boeheim was responding (and with some oomph) to an unpleasant Friday offering — that would be mine — which pointed out that the Orange's middling 53-39 record since February of 2014 had represented a dip, maybe a telltale one, when compared to the glorious 155-28 run that had preceded it.

Thus, at that moment, and in the ones that followed, the "happy-for-a-change" fellow wasn't.

"Those are just numbers that you put in the paper that don't mean anything," Boeheim argued. "You're putting numbers that are saying it's been a bad three years. Last year, we lost 14 games, but it was one of the five best years we've ever had since I've been coaching here because all that matters is what you do in the NCAA Tournament. That's all that matters.

"Just ask Pittsburgh or Virginia, who won 30 games last year, if they would have our year. What I'm saying is, last year was a great year. The year before that, we weren't eligible for the Tournament, so how many losses doesn't really matter. And this year certainly could be a bad year, but it isn't over yet."
That quote has been with me since he uttered it. As much as I love the regular season, and want it to matter. It really doesn't. Not compared to the NCAA Tournament. That's just the way things are.
UConn won the National Championship — twice — in the last 10 years after muddling through their seasons. After being a bubble team coming into their conference tournaments. No one cares about that part. Just how it all ended.
---