I can't even bother to work up some requisite outrage over a dumb name, a likely dumb trophy and corporate sponsorship.
The Pitt vs. Penn State football series will be tagged as the Keystone Classic presented by Peoples Gas as announced Friday by both institutions. The first meeting in the newly dubbed series will occur Saturday, Sept. 10 in front of a capacity crowd at Heinz Field 12 p.m. – ABC or ESPN). The Panthers are also scheduled to play at Penn State Sept. 9, 2017 in the second meeting of the four-game series that will continue in 2018 and 2019.

"We are extremely excited about renewing this great series and grateful to have Peoples Gas on board as a presenting sponsor," said Pitt Athletic Director Scott Barnes. "The Pitt-Penn State matchup will serve as a marquee game of the early football season and I know our fan base will be out in full force for the matchup. This has been a great collaboration by the two institutions both in scheduling the game and securing a corporate partner."

Pitt media rights holder IMG worked closely with Penn State media rights holder Learfield to secure Peoples Gas as the presenting sponsor of the series. The partnership includes Peoples Gas' corporate mark embedded in the series logo as well as various branding, social media, activation and community assets. In addition, both schools are working with their licensing partner CLC on creating a line of merchandise featuring the Keystone Classic logo.
/shrugs
I mean, it's no Friends of Coal Bowl, but what is?
Honestly, the only surprise is that this didn't get announced sometime this past spring so they could plaster the logo everywhere and start selling merchandise sooner. It seems amazing to me that this didn't get announced until mid-afternoon on a Friday, 15 days before the actual game.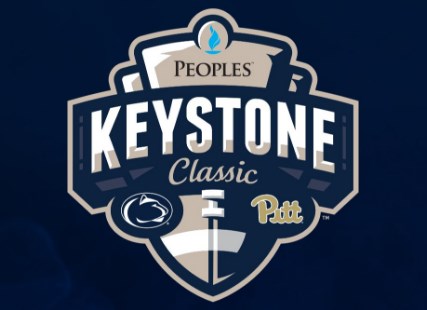 First of all just because they are calling it this doesn't mean you have to call it anything other than Pitt-Penn State. Nor are you compelled to buy  branded gear.
When the Backyard Brawl returns for a couple games and it is inevitably "presented" by Cabela, Gander Mountain or some fracking trade group, I'm not going to worry about calling it anything but the Backyard Brawl.
Second, this is more money coming off the game. That's fine. Anything that makes continuing the series on a regular basis more attractive should not be discouraged. Since money is a big motivator, how does this do anything but help?
Is it kind of useless? A bit of window dressing? Unnecessary?  Of course. The idea, though, that this sort of thing cheapens the game and the history. That is just being silly.
---