Here is the Peak's PantherLair podcast on the Trib's website – he talks about the uniform roll-out and other things.  But specifically about what a ringing success the whole day was for Pitt athletics – from social media to returning players to the event itself in the evening.  He also talks about how the Pirates don't give a crap about Pitt at all… as we read in Chas' piece earlier.
He also addresses the current facilities improvements and what was done by previous FB HCs.  I like the fact that this administration is dedicated to long range upgrades and it's starting to come to fruition.
(By the way – remember what Peak says here about Narduzzi's using comparisons to other football programs when asking fans and boosters for $$$ to renovate the facility's meeting rooms, weight rooms, etc… Pitt football does not exist in a vacuum and we have to play catch up to keep up with programs that have forged ahead of where we are now when you read the last part of this article.)
Chris Logue of Pitt Nation Sports always has interesting articles and is a damn good wordsmith. Here he writes about the QBs, or not, of the future for Pitt.
"Despite the success from a Pittsburgh standout and the myriad of congratulations the star (Phil Jurkovec) received after his commitment, it seemed like a dumpster-fire moment on Twitter from "Pitt-faithful." Oddly enough, mostly aimed at Pat Narduzzi's immediate "inability to recruit" after an incredible wrap to his 2016 class and the praises that sealed that envelope.
The story that remains in the middle of the announcement, for myself at least, is everyone seems to have forgotten about Thomas MacVittie, a prized steal for Narduzzi last season.
To state that MacVittie did not produce the same attention through his senior season as Jurkovec had through just his sophomore season is excruciatingly obvious. But, the two may be more similar on the field than you may think.
Its a good read and should bring some of us back from the brink.
Here is another article of his I didn't read when he first published it.  I was going to save it for later discussion but decided this is a good way to move on from the uniform issue.  This covers Pitt's offensive trends over the last 10 years and is a great and detailed read.  Plus it has some great graphics inside it.  Here is a part of it:
Trend 3:
In the season's where the offense did not produce at least 50 scoring possessions, the team failed to reach bowl eligibility.
In 2005 when the team went 5-6, the offense produced a measly 42 scoring possessions. In 2007, the team managed an improved 49 scoring possessions, but again failed to reach the six win mark and ended the season at 5-7.
2005 offered one of the worst beginning's to a season that Pitt could have asked for and were set behind the mark immediately. After getting trounced by Notre Dame to begin the season, 42-21, the team followed that performance by losing to an Ohio Bobcats team that now marks one of the top-five low points the team has ever reached, 16-10, in overtime. To follow that flood of tears came a disturbingly painful game to watch against Nebraska where Pitt fell by a score of 7-6.
It's even painful to rehash a decade later.
Here is KDKA's Mike Vukovcan's Friday Recruiting Notes.
***Biggest news of the day is that New Jersey quarterback (3*) Kenny Pickett is currently on campus visiting Pitt.   Pickett, who recently de-committed from Temple, is visiting with his parents.   I'm told that Pickett was excited when being offered by Pitt last week and has serious interest in Pitt.  Keep an eye on this situation.
And this bit caught my attention:
**Last night, WR Coach Kevin Sherman offered a big play wideout from the stare of Georgia.  Corey Reed (6-3, 200) from Roswell, Georgia was the recipient of the offer from Pitt.
Reed holds offers from Illinois, Kentucky, Louisville, NC State, Maryland, Miami (FL), Rutgers and Wake Forest.  Last season, Reed had 42 receptions for 684 yards and six touchdowns.
I'm hoping to talk to Reed later this afternoon
I'm right here Mark… drop me a line.
OK – one last discussion on the uniforms then we move on… seriously… and this is a promise from someone who is apparently the only "Anti-Pitt" blogger following the football program.
I want to make clear something I wrote yesterday, and from reading some of the comments to that piece I think some of what I was trying to get across was lost in translation and I'll apologize if that was the case.  The bottom line is that I believe what was targeted to be accomplished by the Pitt admin on Wednesday night was met and done well.  I wrote:
"So, the roll-out was certainly an event and they showed the future (or did they?) of the visual side of the Pitt sports teams and associated 'cheer' entities.  They did OK on the all the other athletic department units – such as basketball, baseball, volleyball, cheerleaders and dancing girls (and boys now), etc.  The changes to the facilities look great also and were in sore need of being done.  Kudos on that also."
That was a bit of an understatement on my part – I think all those other uniforms and facility works were done well and look great. I really do and it show consistency and effort on the part of the administration to make things… well… uniform.  Again, it was the football side of things I was addressing. But to remind; I don't hate the football uniforms at all – I'm ambivalent about them. I just think we missed a perfect opportunity to do great things with them.
Reading the comments here and across the internet, getting emails from friends and in my verbal discussions I will say that my opinion on that is echoed across the fan community – regardless of any poll taken.
One other recurring thought expressed by fans is something like this "I don't care what the uniforms look like, I just want to win".  I'd like to address that thought and keep in mind we all want Pitt to be a successful and winning program. We also want Pitt football to be recognized easily and to be appreciated by all college football fans.
I know readers have a visceral reaction to anything written about Penn State on here but bear with me.  Please try to read the rest of this as unemotionally as you can.  I use that football program to make a couple of salient points below.
I have said that this uniform roll-out failed to create a "brand" for the football program – I think we all can agree about that.  I listed some of the school who do have that strong brand going for them and of course it is no coincidence that they are also winning football schools.  But why are they?  Why are they consistently good and why are they so recognizable?
There are a lot of factors that go into winning consistently but perhaps we'll all agree that good recruiting and strong fan support with the accompanying 'boosterism' are two main ingredients.   How do those schools maintain that?
Take PSU for example.  That school is built around its football program (for good or evil but let's put that aside for a moment for sake of discussion) and football is a prime mover and motivator for the university, the city of State College – really, the whole state of Pennsylvania – and for the personal lives of their fans.
PSU football has an amazing strong impact on their fans and their personal lives and in turn those fans want to have an impact and provide back into the football program.  The amount of money plowed into those 'big' schools football programs by fan donations is off the chart compared to ours.
We see that organizational influence in PSU's years in advance sell outs, their 'PSU pride' – I see PSU stickers and flags everywhere – and their monetary support.  It just keeps going on and on.
But the reality is that things haven't been real rosy for PSU in the past 15 years or so.  Yes, they have had some nice winning season but they also had seriously negative things happen to them that Pitt hasn't had to deal with in a long time – and one specific thing not ever.
In the five seasons from 2000-'04 PSU football hit the skids and had a combined 26-35 W-L record.  That is something Pitt hasn't had since the 1990s when we were near rock bottom. We have been an average football team and flitted around .500 for the most part since those 'bad' days in the '90s- a few winning seasons here and there.
But PSU's play on the field was terrible and  the program itself was in a shambles; bad enough that some PSU fans and media were calling for Joe Paterno to retire and get new blood into the football administration starting with the HC.
In addition to that losing record, PSU later on had a horrendous negative shock, and what looked like it would be a crippling  thing happen to the football program.  The Jerry Sandusky pedophilia scandal broke in 2011 and the strict NCAA recruiting and no-bowl sanctions were applied to 2012 and onward.  Forget the fact that the sanctions were lifted later – I'm talking about how it was in the three years after the crimes were made public.
The enormity of that scandal was something that I can honestly say might have made Pitt drop its football program altogether.  Yet somehow PSU kept recruiting, very well in fact, and kept winning football games to the tune of a 38-25 record from the point when the scandal was made public until last season.
How in Hell does that happen? How does a university not miss a beat with all that when other schools would have been set back dramatically, if not fatally?
It happens because they are PSU and have the arguably the strongest 'brand' in college football… and the PSU uniforms are a huge part of that brand.  Of course the uniforms weren't the sole reason PSU not only survived the above but kept on winning football games, didn't lose any of its fan base or – get this – its apparel sales.  But that PSU brand was so strong it not only survived but thrived.
And through all of that their recruiting kicked us in the ass in all but a few of those 15 years. Again, how does this happen? Because many, many high school players look at the Penn State football program from childhood on and want to be a part of all of it when they grow up.  They want to wear the PSU uniform and be part of that amazingly strong PSU family. And so do their parents, friends and extended families.
Think about it. Some of those kids who were on the PSU team when the scandal broke in '11 were young and growing up when PSU was having that earlier five year losing streak. The amazing thing is that only nine out of 105 roster players transferred out of PSU when given the opportunity to do so without penalty by the NCAA.
We can call it a cult and laugh, or be sickened by it depending, but PSU football is so easily recognized and is so much a substantial and constant part of their students, alumni and fans' lives that it is arguably the strongest football program in the national when all things are factored in.
That is what the power of a university's future vision can do if they really are committed to building a strong program and recognizable brand.  We need to look forward more than just a few years and dedicate effort and money into creating an entity that loudly proclaims "This is Pitt Football !!" through thick and thin and as the years roll on.  Do that and we won't have as many fickle fans who only care when we win or have the people living in Western PA thinking  'Wonder what is Pitt is doing these days'.
With the football program as we are now, sort of limping along and inconsistent in many ways, and we are regardless of an 8-5 record last season, it seems the administration is intent to keep on on keeping on – and not necessarily in a good way.
The blanketing of ALL the associated apparel with Pitt sports is an excellent starting point.  It was the right thing to do, everyone associated with Pitt wanted it, and I'm very happy we did it. But I truly think more needs to be done.
If athletics are the front porch to the University's house as they say then the football program is the design, construction, painting and decoration of that porch.  It should be the Grand Entrance to the university – not just a place where you walk up a few steps and ring the doorbell.
Sooner or later Pitt is going to have to do this – find a uniform that fans really love and want and stick with it for years – even if we lose apparel money at first.  We need to make it so Pitt is a long awaited destination for recruits to attend school and play ball in with that we'll get the best of them and win games. Then we'll capture new fans along with the enthusiasm, support and monies they'll bring with them.
Do this and keep working on making the football program itself, the football staff,  and the teams stronger and then we'll be in a position where high school players and their families from not only local areas but from far away also will already know who Pitt is and what we stand for.
The end.
OK – not The End.  Late Addition:
Apparently those strange numbers are based on the interior of the Cathedral of Learning's first floor study area.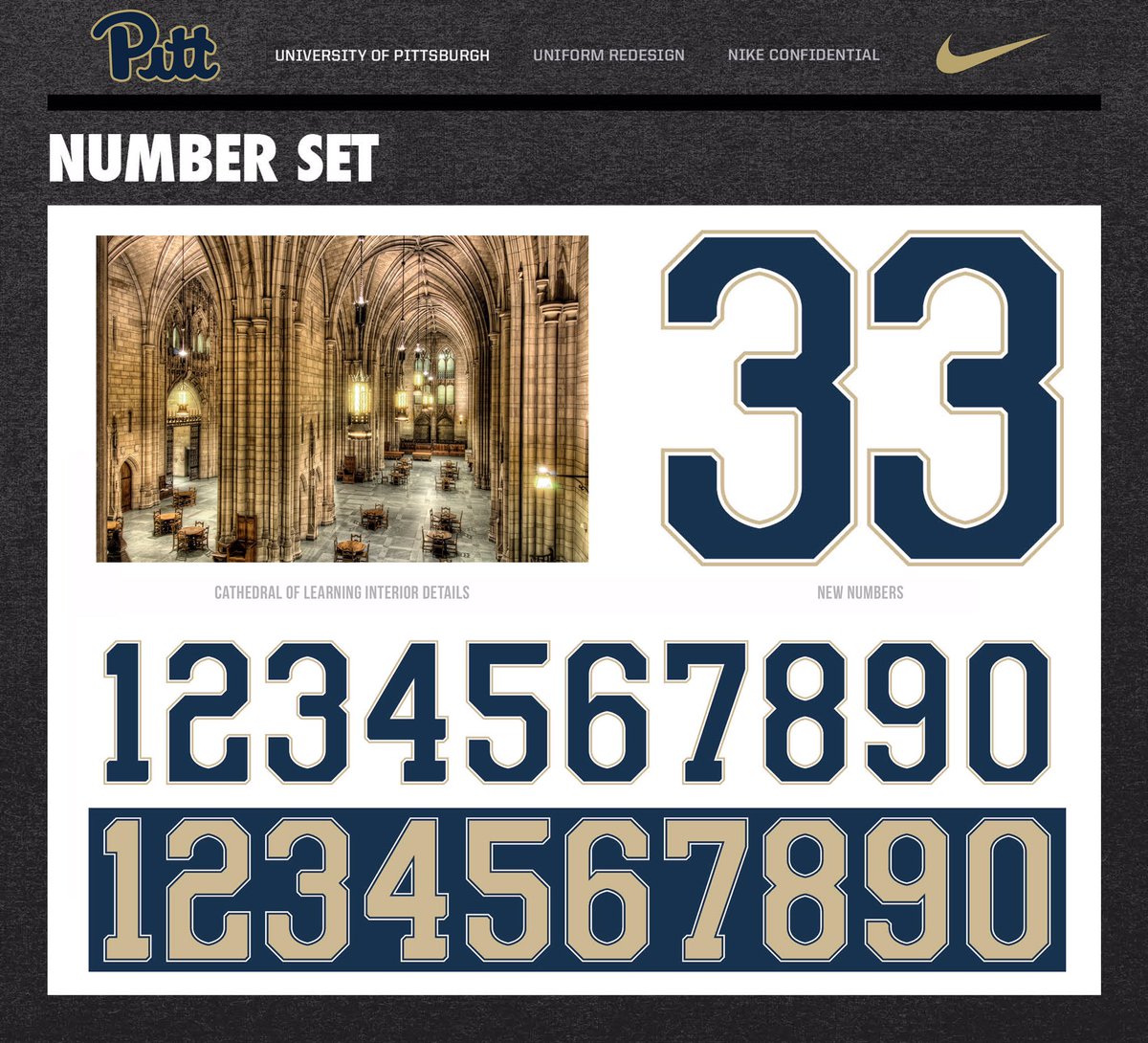 I have a pretty good eye for detail and graphics and don't get the connection but what is done is done (for a while anyway).  Good intent though.
---