Virginia is not a good football program. They were a unanimous pick in every publication, in every every preseason poll — coaches and media — to finish last. Not simply in the Coastal division, but the ACC as a whole.
They are a mess. Mike London is a dead coach walking. They are 1-3. That one win coming against the 1-AA William & Mary Fightin' Jon Stewarts. And even then, they had to hold on for that win.
And yet…
They have talent. Make no mistake. Mike London has lasted as long as he has, not because of his coaching acumen or naked pictures of the AD. He's done it because he has recruited better than the team's record should suggest (Yes, I know recruiting rankings and such are completely nebulous and questionable with individuals, but they are a decent indicator of overall team talent). 2011-13 recruiting classes were all considered to be in the top-30 by Rivals.com. 2014 had them at 41 and last year was in the 40s.
Obviously slipping, but still. The recruiting sites constantly had the Hoos above Pitt in recruiting.
They nearly beat Notre Dame until giving up a 39-yard TD pass with 12 seconds left. Leading to an image that just summed up UVa football in the Mike London era.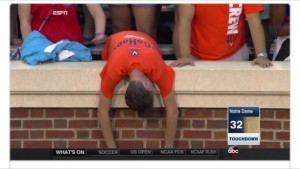 We've been there.
Mike London will be fired because he's done zilch with the talent, but it is there. In that respect, Virginia can't be assumed as a win. It should be a win, but Pitt can't be assuming it will be given.
Pitt has gone 3-1. Coming off a strong win against Virginia Tech (and you can denigrate it and this particular VT  squad all you want, but that win had significance). The team is feeling good about itself. The fans are cautiously optimistic. It's homecoming.
So how many of us, even half-jokingly, are waiting for the cartoon-like, "KABOOM!"?
Reflexively. Defensively. To preserve our sanity. How many are expecting the bad thing to happen?
This is the letdown game to avoid. One more thing to try and change for the fans first.
Justin has posted a few times (slightly tongue-in-cheek) about the Pitt revenge tour that the first three games represented. Not to mention, that last year Pitt was 3-1 — with an ACC win and only a loss to Iowa — with a bad team coming to Heinz Field.
It's unfair to expect Head Coach Pat Narduzzi to exorcise in one year all the demons that Pitt fans constantly see around the football program. Let alone change the national perception.
But a solid win this Saturday can be another blow against the old perceptions within and without.
---