The Narduzzi Era at Pitt began yesterday and Pitt came out with a 45-37 win against the tough and persistent Youngstown State Penguins in front of 49,969 mostly yellow-painted fans.  Here are the official game stats in case you are wondering how what happened came about.
There is good news and bad news coming out of this ballgame.  Here are the highlights so that you can see some of each type of play we had Saturday:
The fact that rsFR RB Qadree Ollison  (16 for 207, 12.9 ypc & 1 TD) is as good or better than advertised is the good news.

So is the fact that we sacked a bunch the YSU QB of times… and Peterman's arm.  Add to that watching Jordan Whitehead acting like The Flash running around out on the field.  What a smile on this kid when he talks about actually playing real college ball.
Interesting point; when he's asked if the speed of the game surprised him he said that he wasn't because Narduzzi was running faster practices.  That is good coaching and this kid has the mark of stardom on his forehead.  All else is pretty much 'not so good' and even some 'bad' news albeit that is very subjective according to the watcher.
However, as our Beloved Leader of North Oakland says: "A win is a win is a win".  Not as original as "O! be some other name, What's in a name? That which we call a rose By any other name would smell as sweet…" but he's trying.  The press conference video is shown farther below.
Every Pitt fan is going to have their positive and  negative takeaways from this game but I think it is safe to say that overall the main feeling we are left with after the game on Saturday is disappointment, with a dash of worry throw in.
Our Blather predictions ran the gamut from a close Pitt loss to a huge Pitt 62-0 blowout win.  However most of us called for a tighter Pitt win, and that is what we got.  My own prediction fell short of the final over/under of 76 points scored but I thought a seven point Pitt win was in the cards and we won by eight.
So as not to be hypocritical here I have to reiterate that I wrote the YSU team had talented players, especially the D1 transfers they had into their program over the off season and that I felt the YSU coaching staff was fundamentally better than ours.  So when I say I'm disappointed it isn't because I think we should have stomped an inferior opponent, it is because the way the Pitt staff coached and the way the players played was full of mistakes and bad decisions.
The team we hoped to see coming out of the gate at Heinz on Saturday afternoon was not the team we fans, even the more jaded of us, hoped to see.
Two things rang true with our fan's outlook about what we'd have coming into this opener; fans underestimated the YSU players and their coaches and overestimated ours. Now to be sure we are talking about is the coaching staff at this point in time. Six or 10 games into the season Narduzzi & Co. may start to get it and make it all come together but that didn't happen on Saturday… by a long shot.
Here is Narduzzi's post-game press conference where he addresses media questions and his impressions and his wanting to get as many players onto the field as possible.
One fan suggested last evening that Pat Narduzzi needed to go into the locker room after the game and give the players an 'ass kicking'. That's totally directed at the wrong target. If Narduzzi did any 'ass kicking' in the locker room he better have started with himself and then onto Josh Conklin and Andre' Powell.
Himself first because our kids came out the gate somewhat flat and I wonder if they weren't overconfident in playing a team in a lower division, a recurring state that has killed Pitt teams many times over when facing 'lesser' opponents.  After all the hype and excitement about a "New Day", a "New Era" and a "New Attitude" we did just what we always seem to do and became our own worst enemy.
When YSU drew first blood with a field goal to go ahead 3-0 the Penguins set the tone of the game in send the message to Pitt that the Penguins weren't intimidated in the least.  Their positive attitude and our rather poor response to it was the story line of the game up until the final whistle.  It wasn't like we were down for 60 minutes, that isn't the case.  But we were taken unawares many times especially in the second half and that is what happens when you are playing back on your heels.
That said, if I had to wrap up Pat Narduzzi's performance in his first ever game as a head coach I'll say "pretty darn good overall."  Mistakes that were made have to be corrected within five days and he's the type of coaching personality who will make sure that happens, first by looking at his own performance, then at how his staff made their in-game calls, adjustment and personnel substitutions and then down to the way the players executed those staff decisions out on the field.
Five days until game time isn't much at all and that's why being a head coach is so much different than being a coordinator… his scope of responsibility is to have all parties shaped up in time, not just a third of them.  That takes getting used to and it really takes practice as a head coach. Expect some more mistakes, less I think though, as he learns on the fly.
Our players don't need an ass kicking, not at all. They need to be sat down en mass and then individually and shown what they did well and correctly and then how they made errors and screwed up.  Then of course they have to be drilled in practice, both staff and players, to fix those problems before the Akron game.  I think Narduzzi is going to be pretty good with game to game adjustments and progress.
The first thing he has to do is sit Jim Chaney down and put these plays into the playbook.  Not kidding here, we need some spice and it would be awesome to see the Panthers execute#7 on this list .
That Akron Zips game is going to be fun to watch for just those reasons. They are a step up in class over YSU and have a good coaching staff with Terry Bowden as the HC. As we remember Akron whipped us last season and was another of our 'worse losses ever'.  How we come out against the Zips when playing in their stadium and Narduzzi having the week to work on adjusting to this team will go way in how I see the Iowa game and the ACC schedule shaking out.  If the is a big improvement, especially on defense, and I'll feel much better about the team than I do now.  Here is the Media Guide for the Zips.
Ollison aside; and he was fun to watch, I didn't see anything that gives me a warm and fuzzy feeling about this team.  While 45 points should make us smile it didn't come from the strength of a well balanced offense but mainly on some outstanding singular plays. Ollison had two long runs; one a 52 yarder, a real show of speed and power, to put us onto the YSU one yard line.  His other one was a unbelievably quick 71 yard blast down through the left side of the LOS for the TD.
Here is a great interview – his first after real-game action, and you get a sense of who he is, even if he looks like a 15 year old.  It's nice he gives Conner some kudos for helping him on the sideline.
Kick Returner CB Avonte Maddox turned a kickoff from a bumbled catch into an 89 yard return for a score and TE Scott Orndoff's quick thinking and great use of his hand strength in a 55 yard TD.  James Conner contributed his normal two rushing TDs also.  Here is Maddox talking about his game.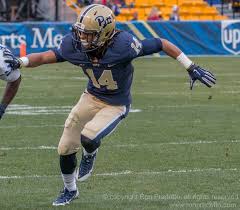 So while those plays got us points we had no real effective sustained drives of the type we'll need to keep the better ACC offense off the field.  We had 12 possessions for a total of 29:34 which averages out to 2 minutes a possession.  Our longest drive was 10 plays for 5:25 from the Pitt 36 to the YSU 27 and a FG to give us a 17-3 lead… which was the last time anyone watching felt comfortable during the game.
Don't get me wrong, long yardage quick strike plays are what we have were missing last season.  We had few and far between and the fact that we had so many in this game is a great thing.  But we won't be able to rely on them to win all the time.  We'll have to have better ball control in the future.
Here is a great description of Voytik's poor play from the Trib's Joe Starkey:
"Voytik rarely threw the ball downfield. After three quarters, he had completed seven passes for just 13 yards and had an interception returned 41 yards for a touchdown.
Three other YSU points were set up on a Voytik fumble at the Pitt 9. He also badly missed Scott Orndoff on what should have been a 24-yard touchdown but later hit Orndoff on a crazy, 55-yard scoring pass.
The pass was intended for Elijah Zeise and appeared to be underthrown, but Orndoff crashed the scene like a young Mike Ditka and put Pitt ahead 38-23 with 12:21 left.  Voytik called it the luckiest touchdown pass of his life. He finished 9 of 14 for 72 yards."
But I had to laugh when I read this quote from Narduzzi defending Voytik's play:
"Narduzzi thought his quarterback might have just been suffering from some opening-game jitters.  "Scrimmages are different from games," Narduzzi said. "You find out how they line up at Heinz Field. The lights go on, crowd's there, band's playing, how are we going to react?"
Well Coach, Chad Voytik should have reacted as a fourth year college QB who had a ton of playing time in the last two years, had a previous opening game win, and had 13 starts under his belt already.  Sorry, but Holy Hell Pat!  We are asked to look at one of the worst performances of a Pitt QB in many years and that's it?
Either that is complete naivety on a newly minted HC's part, which I really hope it is, or he's blowing smoke directly at us.  Either way it is disheartening to not hear a head coach, who is a self-proclaimed straight shooter, tell it like it is.  Chad Voytik is a big boy now and probably as mature as any player on our roster.  He's not going to fall over in a feint if it is acknowledged that he played poorly.
Narduzzi doesn't have to throw his QB under the bus but easily could have looked at the media and said 'Well, Chad would agree that there is room for improvement there and that's what we'll work on.'  or 'We had some problems with the newly installed offensive system, its different than he was used to and Jim Chaney and Chad will work on fixing that.  
Either one is simple, but true and effective… and you know Voytik would be the first to agree.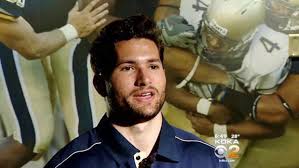 On the flip side it was  refreshing to hear young Mr. Voytik say this about his underthrown deep pass that magically turned into a TD when his 6'5" 265 lb Fairy Godmother showed up.
"Voytik admitted that the pass was intended for receiver Elijah Zeise, but both were wide open, and Orndoff made the play. "It was kind of an ugly one, right?" Voytik said. "It was probably the luckiest touchdown pass I've been a part of."
What I like about Voytik is that he has a firm grasp of just who and what he is as a person and as a football player. I watched him very closely, with my brand new yellow binoculars, when he was on the sidelines when rsJR Nate Peterman was sent in for his rotation.  Nnothing that rings false with this young man and that is a refreshing thing in the business of college football.
Voytik handled that just like he did in the past year when Trey Anderson would go in and that was with grace and helpfulness.  I really do believe that these two QBs, Voytik and Peterman, are each other's biggest supporters just as the media has portrayed.
Anyway, we knew Nate Peterman would get in the game early, Narduzzi had said he wanted to see him in a couple of series in the first half.  As the Trib states:
"It was part of the plan to inject backup Nate Peterman, a Tennessee transfer, into the game for two early series. It probably wasn't part of the plan to see Peterman look great on a touchdown drive and then watch starter Chad Voytik struggle badly for much of the afternoon.
I wondered whether Peterman might be "in the mix" for more playing time if this keeps up.  "We'll continue to evaluate," Narduzzi said."
I believe that "We'll continue to evaluate" process is going to consist of giving Peterman more playing time in each of the next two games and then using the comparative results and effectiveness of each QB to determine who starts going into the harder ACC schedule  in four weeks at Virginia Tech.  It kind of has to be that way doesn't it?  How much better an evaluation can you get but from seeing the kid in more game action?
At least I truly hope that is the case.  I don't think anyone can look at yesterday's game and say Voytik did anything to cement that starting position.  He had flashes but overall it was poor.  The reality is that every PITT fan who wants the best for the team should embrace this dual approach as it will put our best resources forward when most needed – whether that is Voytik or Peterman.  This is what a good coach does to win football games. Too bad none of our previous HCs saw things that way; it could have gotten us a few more wins at least.
I missed Peterman's INT on the misguided pass into the YSU guy's hands, but certainly saw the deep pass Peterman threw down the right sideline to WR Dontez Ford that hit him perfectly on the hands and in stride (!) That play happened right in front to me and I'll say that Pitt hasn't seen a deep ball thrown that well in two years.
If anyone watched that game and still thinks Peterman was brought in to be a bench warmer or a 3rd sting QB body to fill out the bench they are seriously mistaken and possibly an idiot. I'm not naming names right now…
Pitt's missing deep passing game last season was exactly what I asked Narduzzi about in the Media Day press conference and Peterman's talent in this aspect of the game is just what Pat Bostick Jr told me about when he mentioned how good Peterman is.  He is here exactly to give Voytik legitimate competition and to make a run at the starting job.
It was no coincidence that Chaney called for that particular play for Peterman's debut. The offensive staff wants to show everyone, not just the media and the fans, but also Peterman's fellow teammates, how good he really is.  You know Chaney wants Chad Voytik to see that play also because that is what makes good players better, knowing you are in a hard and fair competition against another good player.
On the defensive side we saw the new aggressiveness Narduzzi and Conklin have been working to instill into our defensive players' mindset and it made for some pretty exciting plays.  That too has its problems that need to be worked on and fixed though.  We over pursued on some plays and haul ass in the wrong direction on others.
We didn't see the turnovers created that we were hoping to; our defense had one chance at a YSU fumble but we didn't cover it and we had no interceptions. Those things will come in time when the aggressiveness is more controlled.
By that strong forward leaning approach to defense also gave us six sacks on the day.  Grisgby had two from this LB spot and Ejuan Price and Shakir Soto each had one from the DE slot. All in all we had 10 tackles for loss for 53 yards (including sacks) so that is a good foundation to for DC Conklin to work on and improve.
As predicted we did get burnt on the one- on one cornerback coverage more than once.  Terrish Webb got blown past on a 75 yard pass play when YSU's stubs beat him and the late-in-reacting Safety Pat Amara on a deep down the middle pattern.  That helped them rack up a 13.9 average yards per catch which is poor coverage on our part overall.
Here are some other facts of the defensive game we played.  YSU had 407 total yards; 278 by passing and 129 on the ground, mostly thanks to a 75 yard TD run by Jody Webb where he made Matt Galambos look like sightseer in Times Square.
They had a time of possession of 30:16 to our 29:44 – almost equal actually.  We did hold them to a minimal 19% in 3rd down conversions and to 0/2 on 4th down tries which is excellent, even while we were fumbling around to a pretty poor 36% conversion rate ourselves.  YSU did have 16 1st downs to match our same number.
Was it a complete mess on our part? No, not at all and we did some very good things to go along with the ridiculous.  Oh yeah speaking of which, I forgot to mention four penalties for 23 yards which doesn't sound too bad until you realize they were all either delay of game or procedure penalties. That was sloppy work on the staff's part there.
But we have a good sense of what kind of work and emphasis Narduzzi and his staff will have to apply for the upcoming Akron game in Ohio. I don't think the Zips will fare as well as did the Penguins, but again and just like this last week – we are going up against an opponent who shouldn't have beat us last year (at home) but did.  That should be an interesting game, especially with the question marks that arose on Saturday.
In my season prediction article (6-6) I wrote that we could be a seven win team if we got the lucky breaks and the ball bounced our way because that is what we were missing in 2014.  Here is a great example of exactly that happening in this game.  Both plays are linked above by here it is in context:
That's how I saw things and those are the issues I feel popped out of the game with some force.  Yours will be different for sure so let's hear them.
---