As a final Part Four of our preseason review let's look at how the coaching staff has done so far and what we can expect from those paid by the PITT administration to both prepare the team for competition and then guide it to a winning season.   This is an area of the program that elicits the strongest opinions, both pro and con, from us PITT fans and rightly so.  With our four year track record from 2010 through to the 2014 season, we have been pulled through the wringer with the trials and tribulations of not only the football coaching personalities and their actions but also by some debatable decisions made by the PITT administration.
   I don't really want to revisit the head coaching hires and departures over the past five years in this article; nor do I want to parse the Athletic Director and the Chancellor's decision making over that time period.  We all know what a cluster it has been and I'm not sure it has much to do with the current football team and the upcoming season at this point.  That said, we need to focus on the Head Coach and discuss what strength of program Chryst inherited as a new hire and how he has progressed from that point until this training camp.
   My personal opinion is that Paul Chryst has done an admirable job under the circumstances he walked into, with his eyes wide open, at PITT.  If you look back at a lot of D1 new head coaching hire's first two years won and loss record you'll see a dip from the previous seasons in a lot of instances.  Chryst has avoided that after inheriting a 6-7 team and then having 6-7 and 7-6 seasons, while at the same time strengthening the program from the inside out.  Perhaps it is small blessings but at least we didn't slide backward in that transition to Chryst as HC.  He has approached this PITT job with a clear intent to recruit players he wants in his systems while also making sure that he gets kids who can succeed academically and take direction well.
  His recruiting approach has either been embraced by PITT fans or subject to some derision by them because he isn't landing multiple 4* and 5* recruits.  I'd like to be a fly on the wall at some of the staff meetings during recruiting season as I'm just not sure how successful they themselves consider these last two recruiting classes.  On one hand a positive proof could be in the fact that so many redshirt and true freshman played a large amount of time last year.  I can't remember any other season where our two deep line up was so very young.  I'd hazard to guess that we'll see the same thing happen this season with the redshirted freshman and the incoming true freshman class.  On the other hand all those kids might have been just forced to play because of a general lack of talent across the roster.
   Playing that much youth in 2012 was a risk that many rookie 1st year HCs wouldn't take.  Chryst has a long view and has changed the existing roster coming out of the 2011 season pretty dramatically over the past two years.  We saw many 5th year seniors and other more junior players who were moved on, transferred, or quit football.  From the 2013 scholarship roster Crockett, Banks, Giubilato, Felder, Christian, Ifill, and Shane Johnson didn't return this year.  After the 2012 season Doakes, Chapman, Mason,  Shell, the Davis twins, Rippy, Carswell, Eric Smith, Carrozzini, S. Williams, Frimpong, Ryles and Terrell Jackson left the program.
   That is at least 21 players (if my memory serves) and 21 scholarships Chryst had to use for more  of his own recruits.  That is also a 25% turnover generated by circumstances aside from the normal end of career attrition.  You can assume that many of those recruited in place of the departed will get decent PT this year, especially when it happened last season as Chryst fielded 19 FR and true SO kids who were his recruits on the two deep listing.  That folks is a young ass team and exactly how Chryst is building for the 2015 season and beyond.
   On the flip side we have gotten some pretty good transfers in wanting to finish their college careers with Chryst as their head coach.  Savage was a great addition, Reggie Mitchell, Jameel Poteat, who will be available in 2015, are going to play for us also. On a separate issue we now have a much stronger walk-on program then in the past with 21 roster spots being filled this season with kids who didn't have scholarships but wanted to be at PITT anyway.  Most came onboard in 2012 and sat out a 2013 as a redshirt year.  In the past Chryst and the Wisconsin Staff made great use of walk-ons in their program and Chryst is doing the same now at PITT.  Again, I anticipate Chryst being here for a good length of time and he's building his program and his team(s) with that in mind.
   All that aside, where the rubber meets the road for any HC is in two areas.  How he's running the program and how he's winning football games.  The former is well in hand and I think at this point the jury is still out on the latter.  Above we discussed his actual W-L record, but the question of 'how' he's winning, or losing, games is still unanswered.  We have see some pretty glaring in-game decisions that backfired on him, what comes to mind first is his clock management in some losses.  But there are a whole slew of variables that go into what the outcome of a game is going to be.
   What very good HCs do is hire a staff they trust to execute the HC's overarching gameplan. They do not get bogged down in the preparation of the actual playcalling or schematic details and they let their Coordinators handle the 'trickle down' directions to their respective position coaches.  I have no idea if this is actually how Chryst runs his ship or not, but I suspect it is with perhaps more hands-on work with House on the defensive side.  He does have the final say on the two deep personnel, chip in with play calls every so often and personally makes the in-game FG or conversion try decisions as most HCs do.
   I do know that Chryst is a stickler for keeping things simple in both preparation and execution and he is calm at almost all times and situations… although I and the PITT fans have seen him explode a few times. What I'm saying is that I'm not knowledgable enough about the working relations between Chryst and his staff to know whether is it working that well or not.  It is safe to say though that some of his hires, mostly acquaintances and friends from his Wisconsin days have been headscratchers for us fans with DC  House in particular.
   OK, now I'll throw in my two cents about the current supporting staff and their works so far then open the floor for comments and discussion.
Here is our current football coaching staff makeup:
   In my opinion there are three crucial areas that need to be examined and improved on with the staff. First and certainly foremost is Matt House as our Defensive Coordinator. It's safe to say that no PITT fan was overwhelmed by the defense's performance last year or by the coaching job House did with his defensive personnel. We read about the defense in the last article and I don't want to repeat it here. Suffice to say that if Coach House doesn't markedly improve with a full year as DC under his belt we'll be in trouble.  I'm not as upset as a lot of fans are that he was chosen by Chryst for the job, I'm actually pretty OK with that, but the time is now to reverse the decline trend in our scoring defense.
   In 2011 with Graham we gave up 22.8 ppg;  in 2012, Chryst's first year and with the DC job being held by committee we gave up 21.1 ppg.  Then, in House's first go-round, we dropped to allowing 27.2 ppg.  That is a big difference and even though we improved our record from 6-7 to 7-6, the defense didn't help much with that.  Since our offense may not be scoring much more than last year's 26.6 points it is critical that we lower our opponents scoring this season.
   I'm a believer that just as players understand the game and play better in their second year of college ball coaches and coordinators do also.  Am I expecting a Top Ten defense all of a sudden?  No.  We don't have the talent on that side of the ball to do that.  Am I expecting a marked improvement, especially in House's defensive play calling which in turn will allow what talent we do have to be effective?  Yes.  Because that one year of experience in that important coaching position helps immensely.
   Secondly, another of point of concern is Coach Breckterfield work with the defensive tackles and Coach Palermo's work with the Defensive Ends.  We know that the defensive line's effectiveness rests in trying to fill two big departures in Donald and Ezell but what we don't know is how well these two coaches as the main source of guidance are going to handle that.  We have enough young raw talent along that line to at least fill out a decent 1st and 2nd string as long as they are coached well.
   My concern is if the staff is going to be able to take that talent along with the players' youth and inexperience and develop solid and aggressive players who can fill the void.  Aggressive is a key word here as both FR and rsFR have it hard to effectively go at a 100% effort clip for 60 minutes and 13 games at the college level.  It is a big job those two coaches have and one I think the season rests on.
   Third would be how our offensive coordinator is going to be able to free up our most effective and explosive yard gainer in Quicksilver Z.  Boyd.  We know he'll line up at WR and we are pretty sure at this point that Garner will be opposite him as the other WR (I haven't seen 4* rookie Adonis Jennings yet).  The question is how good will Garner, and in turn the TEs, be to be able to pull some defenders off Boyd.  If they can't not then the OC will have to find touches elsewhere for Boyd using swing routes, wheels, etc.  Last season Boyd ran the ball 11 times for 108 yards which is an astronomical 9.8 ypc.  Most of those were end arounds and sweeps to get Boyd free from having a defender in his face and to where he could get 'in space'.  But there are a myriadof other routes he can run as a RB as shown below.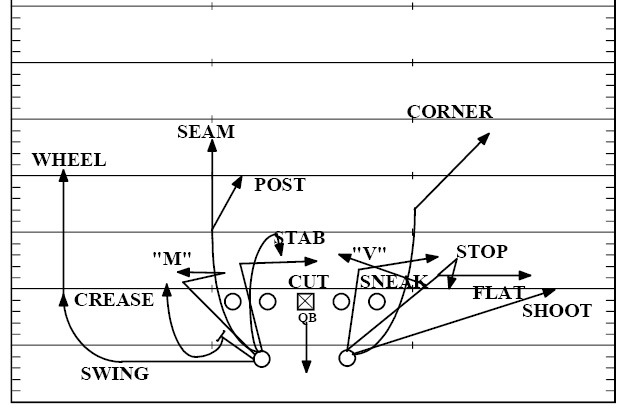 Now, I'm not sure our OC is going to use Boyd like this often but I love that diagram so much I had to include it.  Stare at it long enough and you might have a seizure.    I hope we don't call many pass plays out of the backfield for Boyd to the right side of the defense as those are pretty violent;  "Stab", "Cut", "V(ivisect)"  "Stop" and "Flat(ten)" and "Shoot".   Hey, I'm all for a mild rebuke if a kid screws up during a game but to allow opponents to do that crap to him is a step too far.
An option to get the ball in his hands, as crazy as it sounds, is to use him as a straight RB in a run offense every so often, including off-tackle and draw plays.  He's got a great RB pedigree from HS and he's the fastest and shiftiest guy we have.  He's no small kid at 6'2″ and 190 and could physically take doing it if needed.  This would be especially good if a 3rd WR, perhaps Adonis Jennings, steps up and produces to allow Boyd to vacate the WR spot for 3-6 carries a game.  Controversial I know and I may be a bit hypocritical with it because I don't want Boyd to have any additional chances to be hurt, but his talent is so versatile and so good that it could be very effective if used in moderation.  In addition, it would add another worry for the opposing DC to game plan stopping him.  I kind of doubt we'll see him much in a traditional RB role but  it would be a great change of pace from Conner and/or James – two stockier and more power guys.
Trying to get up to practice both this Friday's full contact practice and next week for the 1st scrimmage  – I'll keep all informed.
---