And no, this has nothing to do with Fraud Graham.
Pitt has shed it's strength and conditioning coach.
Strength and conditioning coach Todd Rice has resigned from his position, a Pitt spokesman confirmed tonight. Rice spent the last two years as Pitt's head strength and conditioning coach, and previously held the same title at N.C. State, Boston College and Cal.

Pitt did not provide a reason for the resignation, and said that it will hire a full-time replacement some time after Jan. 1.

Most of the reviews I heard from current and former players about Rice were not necessarily glowing, and Pitt dealt with a spate of back injuries (usually, though not always, indicative of a conditioning issue) along the offensive line. Left guard Cory King and left tackle Adam Bisnowaty both missed multiple games with back injuries this season.
Not glowing reviews. That may be putting it mildly considering the first source that put out word that Rice was out.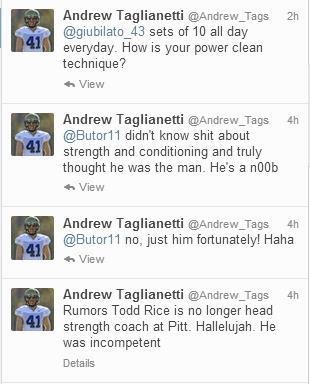 Rice was a hire that was shaky from the beginning. His biggest qualification seemed to be that Paul Chryst could trace a family connection to him.
Now since the hire is not going to be announced until after January 1, let the speculation begin.
The first is a familiar one for Pitt fans: Buddy Morris. Morris served as Pitt's S&C coach from 1980-89, 1997-2001 and 2007-2010. He also worked at the University of Buffalo and with the Cleveland Browns. Morris is currently working as a personal trainer in Buffalo, N.Y., so it would just be a matter of convincing him to move back to Pittsburgh if that's the direction Chryst wants to go.

The other guy is current Arkansas strength and conditioning coach Ben Herbert. Herbert is a 2002 Wisconsin grad who served on the Badgers' staff when Chryst was the offensive coordinator there. He was an assistant S&C coach from 2003-2009, and the head S&C coach from 2009-2012, at which point he followed coach Bret Bielema and took the same job at Arkansas. Hertbert is also a Pittsburgh native and a West Allegheny grad…
Is Herbert ready for a pay cut? Because let's face it, Arkansas can easily match and raise the money.
I'm not against Buddy Morris for his — I don't know — 5th, 6th, 90th go round at Pitt. God knows the players all love him.
But let's face it. The announcement isn't coming until after the bowl game. So we all know who it will be…
Matt House will be the new S&C Coach. Book it.
---