This site takes a deliberate no political discussions, please — approach. This post will touch on politics, so I apologize in advance.
Specifically this will touch on the candidacy of Natalie Tennant. She is the Secretary of State for West Virginia and running for the US Senate to replace the retiring Jay Rockefeller. Yes, this will be about doing something stupid. I know, redundant when mentioning West Virginia.
Chris Peak of PantherLair pointed this out today. It is Natalie Tennant's 3:30 minute YouTube ad/announcement of her candidacy for the senate.
Don't worry if you don't feel like listening and watching the whole thing. The relevant portion is at the 2:20 mark where she talks about student loan interest rates. Time for the picturesque college campus shot. WVU? Marshall? No… :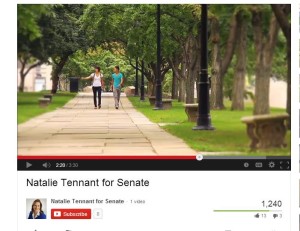 Look familiar?
As noted, per her Wikipedia page she is a graduate of  WVU with a degree in journalism.
---