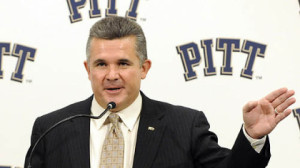 The lawsuit against EA Sports over using player likeness just got a huge boost this week. The lawyer representing Arizona State's Head Coach Todd Graham has announced that Graham will be joining the lawsuit along many former players.  The reason this is a boost is because Graham will be the first coach to join the lawsuit.  How a coach's "likeness" comes into play is something that could be heavily debated.
There's no jersey number nor physical statistics such as height, weight, etc. for Head Coach's.  The AD sets their objectives before the season begins that have to be met. If you're looking for a new job, there's a set of objectives that program has for you when taking the job.  Just because you're interested in a program, doesn't mean they'll hire you either.
Todd Graham was not available for comment due t0 summer practices being held, but his lawyer released this statement:
"Todd started playing NCAA Football when he was selected as head coach of the Pitt Panthers.  After his season ended, he enjoyed the Coaching Carousel feature so much that he was able to accept other opportunities to better himself.  No guilt, no text messaging his players.  It's like no-strings sex without having a woman signed paper to keep her mouth shut. Unfortunately, Todd's coaching career has hit a ceiling as some programs he'd like to coach will not hire him.  Todd feels that this is because of his so-called reputation in real life, and maybe EA is trying to exploit it."
That reputation is that Todd likes to changes jobs…and change them a lot.  It seems playing the EA Sports game, he kept moving around from program to program.
EA Sports has declined comment on the matter.
---