I'm going to wait to excoriate. But I won't deny being highly confused.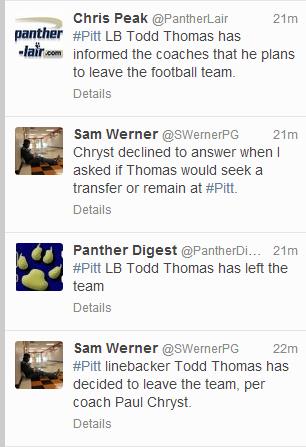 Todd Thomas has had two ACL injuries. On his second injury, he continued playing the rest of the 2011 season and delayed surgery — which cost him the first few games of the 2012 season. He has managed to overcome plenty of pain.
Yes, he had a brief, motivational demotion reminder to start camp. But he seemed to get it.
So, before I declare Thomas to be a man of weak will or lacking heart or anything else. I'm going to wait to see if there is any more to this story.
That or I just might start drinking early.
UPDATE: Okay, maybe you can start excoriating. WOW.
Devin Street on Todd Thomas leaving the #Pitt football team: "Some guys gotta go, and he wasn't on board so I can't do anything about it."

— Chris Peak (@PantherLair) August 7, 2013
---