I wish I could have posted this earlier, but I've been out and away from the computer since early this morning.
The Oakland Zoo is trying to win the Naismith Awards Student Section of the Year prize. Along with basically showing that they can mobilize their base to vote over and over in an internet poll, the Pitt general scholarship fund gets $10,000.
It's been neck-and-neck. VCU has been the upstart trying to pull off the late win. Voting ends tonight at midnight.
Vote here and support the students that have been the reason the Pete has been such an awesome place to see a game.
UPDATE: The Oakland Zoo took 1st in the fan voting.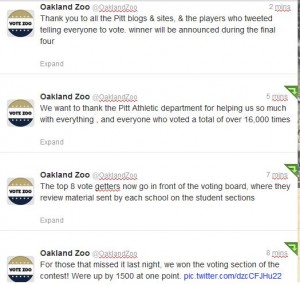 ---