I guess it worked out that I didn't get a chance to do a recap of the loss to Marquette. It would have been completely wrong and looked pollyanaish in the cruel light of the Notre Dame debacle. I would have called it just one of those games. Marquette was hot. Even Marquette's own coach said that they played their best game of the season. They were at home. There's a reason they had won 23 in a row at home. Pointed out Ohio St. getting blitzed at Wisconsin the next day.  Yada, yada, yada.
Dead wrong.
The ND game was Pitt's worst game of the year. Near the end of the game, ESPN panned over to Coach Jamie Dixon and you could see him visibly seething. I've never seen him so openly pissed at his own squad while a game was still happening. At officials, sure, but never at his own team.
It was present right after the game ended.
But this might have been the most inconsolable Dixon has been after a loss. He could barely speak for a long time after Pitt blew a 19-3 lead by playing some of the worst basketball since the Ralph Willard days.

"Sorry you had to see that," Dixon muttered to a friend as he left the court after his postgame radio show.
And it carried over to his post game press conference.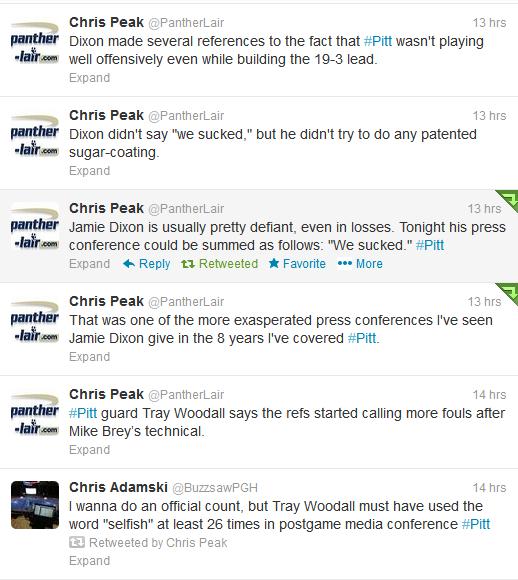 PantherLair posted video from Dixon's presser if you want to look for yourself. He just kept looking down at the box score. As if he couldn't believe the numbers he was seeing.
Once again, Pitt was outrebounded, and as I've stated I don't buy into rebounding differential. I do accept the idea that rebounding margin on this team is an indicator of effort and hustle. And from that perspective, it was damning. Especially in allowing offensive rebounds.
Even when Notre Dame was missing every shot to start the game. Even as they were turning the ball over. They were getting offensive rebounds. They were getting more chances. They went after it harder and stronger than Pitt.
We can talk about the foul calls suddenly picking up after Brey's technical. Or how it fired up the Domers. Or how two quick Zanna shots and misses went the other way for 6 points.
It's just that suddenly this team is not the same. The energy is low. The focus is off. Execution. Everything.
"Our offensive efficiency numbers had been terrific," Dixon said. "This put an end to that."

Pitt shot 35 percent from the field and only made six baskets in the final 17:54, and two of those came in the final 1:22 when the game was already decided.

"We played selfish," senior guard Tray Woodall said. "We're a team that passes the ball, but our assist numbers and rebounding numbers indicate how selfish we played. We have to find ourselves, look at ourselves."

Pitt had 10 assists on 16 field goals and got hammered on the backboards, 40-25. The Panthers entered the game the top rebounding team in the conference, but the Irish continually crashed the boards with success and tracked down almost every loose ball. The 15-rebound deficit was by far the largest of the season against Pitt.

"We've been drilling it, talking about it," Dixon said. "Our losses have had a common denominator. That's where we came up short in our seven losses."
Not to mention not making a single three-point shot the entire game. Lamar Patterson, the best 3-point shooter on the team didn't take one. Passing up on them, and plenty of other shots. Patterson chose a hell of a game to have a funk. Durand Johnson was sent home with a stomach flu. (And honestly, I keep hoping it is revealed that the whole team has it. That would explain a lot more of the performances.)
Considering how Patterson spoke before the game about wanting to win at home. About hating to lose at home, his effort seems that much more unbelievable.
No one it seemed wanted to shoot. No one wanted to rebound. No one wanted to play. There was poor effort to help in the second half. Everyone was in their own funk. Or as Woodall put it, selfishness.
That's selfish also, to be open and not shoot the ball," Woodall said. "That's selfish, too. You have to take what the defense gives you."

Dixon has said all season many of his players are too unselfish and he agreed that hurt his team Monday night.

"We have some guys who are too unselfish," Dixon said. "We got tight. As the game went on we passed some open shots and ended up throwing up a guarded shot. That makes your offense incredibly inconsistent. We never got in a rhythm where we were finding guys and getting guys shots."
I mean, Cam Wright ended up taking the second-most shots last night. It wasn't because he was just hoisting them. It was no one else was. Wright also led the team in assists with 3. I like Cam Wright — off the bench, as a cog on this team — but he should not be taking more shots than Patterson and Adams and even Moore. He certainly shouldn't have as many assists as Woodall, Patterson and Robinson combined.
Zanna has no confidence in his shot. Robinson and Zeigler are afraid of taking shots from outside, because they aren't good shooters. J.J. Moore wants to shoot outside but is horrible at it, and is not finishing strong on the occasions he is driving to the hoop.
This is still the same team that looked to be getting better at the right time. Making progress and growing. We won't know until Sunday if this is the sort of attitude adjustment they have to make in the face of the losses. Or if this team has something else wrong with it.
---