At the end of last week, Florida State had a regularly scheduled Board of Trustees meeting. Given all the rumors and everything that has been said, whispered, denied, backtracked, and so on; well, the meeting was going to get more scrutiny than usual.
And the news is not much. There is enough for both sides of the FSU and the Big 12 situation to maintain their own position. Most of the meeting is on-the-record, so for those insisting that FSU is definitely not heading to the Big 12 will point to the lack of discussions. Part of the meeting, though, was a closed-door session and it has been reported that expansiopocolypse was discussed.
A lot of credit on what follows should go to the FSU Rivals.com site, Warchant.com (which you would probably figure out based on the links). They really covered this thing. Ultimately, nothing appears any clearer. Personally, the implications coming from this meeting suggest there is little chance that FSU is going to give notice of bolting to the Big 12 this year. It doesn't appear that all parties are going in the same direction at this point.
When members of the Board of Trustees are commenting about the school president's viewpoint: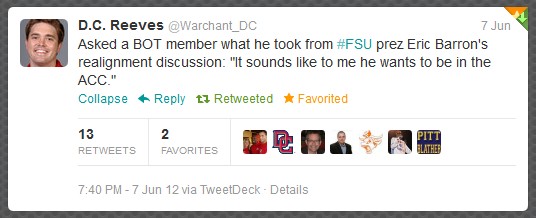 It means there is work before FSU is heading to the Big 12.
Of course, you don't become president of a major university without knowing how to stay flexible. He also laid out to the Board a lot of the factors that not only need to go into the decision, but things that need to happen to improve FSU football in general. Again, there is a lot there, and you can see that all comparisons Barron does is with regard to the Big 12.
One of the attractions for Pitt going to the ACC is the geography. Barron talks geography and demographics:
1/3 of all alumni live outside the state of Florida

51% live in an ACC footprint (GA, NC, VA, NY in top 6 states)
35% live in a SEC footprint (GA in top 6 states)
15% live in a Pac-12 footprint (CA in top 6 states)
11% live in a Big-10 footprint (no states in top 6)
10% live in a Big 12 footprint (TX in top 6 states)
ACC and SEC have the most alumni clubs (20 and 17, respectively)
The Big-12 has the fewest alumni clubs (5)
It's significant, but keep in mind that 2/3 of FSU alum still live in Florida, so where those other 1/3 residing out of Florida live likely won't be a deal-breaker. It still places only 1/6 of the entire FSU alum in the ACC footprint (sans Florida). Academics get mentioned, and with regards to the coming college football playoffs, FSU President Eric Barron does seem to emphasize that it would be in FSU's interest to stay in the ACC assuming being a conference champion is at least a factor in the decision.
Barron told the trustees that the ACC would not be left out of any four-team playoff format and emphasized the importance of conference champions carrying heavier weight in any playoff format.

"My personal feeling is a huge factor has to be conference championship, it just has to be," Barron said Friday following the BOT meetings. "If you look at any playoff system, a four-team playoff system for example, and you've got more conferences that are eligible than that, then winning a conference championship is not enough and you're going to have to look at strength of schedule or some analysis by a committee or by polls or by something.

"But from my particular viewpoint, the most important factor here is that you have to be a conference champion, that's step one."

A format weighted towards conference champions is expected to help the ACC gain footing in terms of national title contention with more powerful football conference like the SEC, Big 10 and Big 12. ACC Commissioner John Swofford has voiced his support for a format that factors in a conference title.
One of the Trustees would like to see FSU and the ACC push for an 8-team playoff instead of 4 to make it a no-brainer for FSU.
 Trustee Joe Gruters proposed that Florida State support an eight-team playoff model, something that would ensure that the ACC champion would have a chance at a national championship.

"I like the ACC, but at the same time, just like they said in the meeting, we have to remain competitive," Gruters said. "And if they are talking the four-team playoff, we really need to push for eight.

"If they say only the top four teams are going to make it, we may be out every year. The president said no, the ACC is going to be covered (in the four-team playoff model). But to guarantee the ACC is going to be covered and to guarantee the Big East and everyone else, it should be eight teams. If Division II can do it, we can do it."
That would solve a lot of things, but it seems unlikely at this point.
One of the other big deals with FSU has been their budget shortfall. Surprise, the FSU athletic department cut a few things and found some coins in the couch cushions.
"We took it to committee, we set our budget back, we looked at it, we looked at all the different avenues in that regard and (Boosters CEO) Andy Miller and I looked very closely in where we could go with that in that we reduced our budget by an additional $1 million and then went with Andy and we started a series of initiatives, 25 different initiatives we put in place, (sources of additional revenue) have come up that we didn't know were going to happen."

As for television revenue, Spetman said that the budget had counted on "right over" $14 million in in TV distribution from the Atlantic Coast Conference, which was paid in two lump sums during the year. But he said the school received an additional $1.6 million of unexpected TV money in June which helped knock down the projected budget for 2012-13.

Spetman admitted that his May report of a budget shortfall was premature on his end.
Basically, FSU AD Randy Spetman is an idiot to let a preliminary budget leak and then not do anything to correct the perception. Even then, there is something very wrong with FSU's budgetary process. As it stands, they are also dipping into some reserves set aside to repaint Doak Stadium to the tune of $1.5 million. Apparently they are only now catching up with recruiting post-Bowden.
Now, while popular FSU sentiment and even members of the FSU Board of Trustees may still be ready to go the Big 12 tomorrow, there just appears to be a significant block — including FSU's President, that while not necessarily pro-ACC — that wants to go a little slower with any conference hopping. The key difference between the expansiopocolypse of last year with Mizzou, Texas A&M, Pitt, Syracuse, WVU and TCU; and FSU is the sense of urgency. In those cases, teams wanted out of their conference over more than simply money. There were long-term issues and concerns of the stability of the Big 12 and Big East.
The ACC just doesn't have that problem. Yes, there are legitimate concerns with the overall quality of football in the conference, and the money the conference can generate. But the conference core — the North Carolina schools and Virginia aren't going anywhere. Add in BC, Miami (which simply cannot afford the move and really doesn't seem interested), Syracuse and Pitt — as schools that not only want to be in the ACC, but probably don't have any other upward conference options. That's nine schools.
Maryland is only going away if the Big 10 calls — which isn't clear when or if the Big 10 has another expansiopocolypse. Virginia Tech fans are enamored with the idea of the SEC, but I'm not sure if Virginia politics would let them leave UVa behind after everything that happened to get them into the ACC. Plus, it is unlikely the SEC is going to expand to 16 for a while. Georgia Tech has had rumors with the Big 12 and even the Big 10, but it's hard to envision them going Big 12 given their academics.
FSU and Clemson have time. They aren't going to be leapfrogged for Big 12 membership by someone else if they don't jump this summer. They can wait and see. That gives them leverage in negotiations. Whether it is to get the Big 12 to help pay their way out of the ACC, influencing division alignments, and other issues. Or in the ACC with regards to making the divisions more regional, changing payout structures.
And if the final scenario for the college football playoffs this summer include a component for conference champion, then that needs to be considered. Expect the slo-mo situation to continue.
---