Well Pitt has its first transfer of note since Mike Cook left East Carolina. One Trey Zeigler let the world know.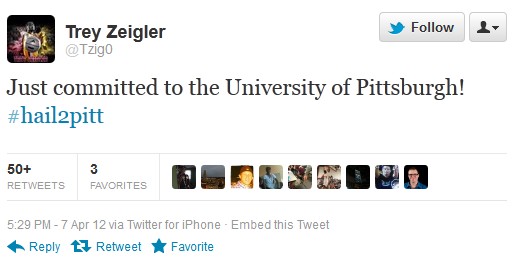 Big get for the shooting guard spot. That position just got a lot bigger and better.
Zeigler let UCLA and Duke know before tweeting the world, which is what you would hope he would do. It has been confirmed by his father.
The next step is to see if the NCAA will give him a waiver to play right away. No one really knows if he will get the waiver. I honestly don't know what the mechanism would be to qualify.
Honestly, it seems Zeigler isn't too sure either.
"I just think with all that's going on there [at Pitt] it's the best fit for me, a lot of opportunities," Trey said. "Just knowing Coach Dixon from being at Pitt when I was little I thought it would be a good fit for me. Hopefully, it will lead to great things."

Zeigler said he hoped to get a waiver and play immediately.

"I'm going to try to get a waiver," he said. "If not I will have to sit out  a year."

The Michigan native averaged 15.8 points, 6.7 rebounds and 2.5 assists at Central Michigan and will provide wing help for the Panthers.

"I'll probably play the 2 and the 3, playing on the wing," he said. "Coach Dixon talked about that his weekend."

If he doesn't, then he sits out the year which is survivable.

Now if there is a way to get Savon Goodman as well, then this becomes a monster class.
Was Zeigler an absolute need for Pitt? No. But you don't turn down a chance to get really good talent.
---