Everyone is just a wee bit focused on the football side of things. There are some basketball things to get out there.
The Khem Birch situation just remains incredibly sad to me. This apparently was not thought through particularly well. There are even rumblings that Birch might actually want to come back to Pitt. Just one little problem so far: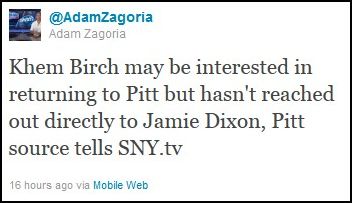 That could be a hindrance.
The unconfirmed rumor as to why Birch may want to come back to Pitt, is that his "advisors" either did not know or forgot to inform Birch that transferring means sitting for a year. I kind of want to believe the did not know part, because it makes a sort of sense as to being this stupid. At the same time, considering how well known this rule is, to even casual college basketball fans I'm a touch skeptical.
I think Coach Dixon would be willing to consider letting him come back, but Birch has some serious fence-mending with his teammates. Judging by the way they have been talking openly after his departure he would have a lot to prove to them. If Birch could man-up to face them, I would be impressed. Have trouble seeing it happen.
Travon Woodall, may manage to return to the team in time for the Big East opening game. Probably not, but at least he is practicing more and getting healthy quickly.
In addition to coping with lots of new blood, injuries and other issues; the weak non-con has allowed Pitt to work on many things so far. One of them has been a slight tweak to the way they rebound. Much more gang rebounding than simply counting on the front court to corral most of them.
"We're trying to challenge the guys with the numbers," Dixon said of the new goals. "It's something we talked about last year. We ended up second. We're first again this year. It's something we've done year after year. It's our strength, and we need to continue to play to it and continue to build off it and not be satisfied."

Without a dominating center, Dixon is asking his wing players and guards to contribute more rebounds. Nasir Robinson, a 6-5 power forward, leads the team with 6.3 rebounds per game and Taylor is right behind him.

Lamar Patterson, a 6-5 small forward, is averaging 5.4 per game. His backup at small forward, 6-6 J.J. Moore, is averaging 3.4 per game.

"It adds something to what we've had in the past," Dixon said. "We have bigger wings and more active rebounders at those spots. It's something that can help us at the end of the day."

Patterson has grabbed five rebounds or more in six of the team's 12 games. He is one of five players on the roster who have done that this season.

"We all just go after it," Patterson said. "We want everyone to attack the defensive boards. The only person getting back is the point guard for offense. We want to dominate the rebounding."
Taylor has a 6.2 rpg average. Lots of players grabbing boards. Seems like a different player each game is gunning for a double-double.
Finally. The must read of the day. Pitt's opponent tomorrow is Wagner. The coach of that team is Dan Hurley. Coach Dixon has twice pursued Hurley to be an assistant on his staff when Dan Hurley was coaching at St. Benedict's Prep in Newark, NJ.
Hurley has a lot of respect for Coach Dixon and considers him "someone I look up to, and talk to, and try to emulate."
A little more.
On one occasion, Hurley and his wife, Andrea, hopped on a plane for a final face-to-face sit-down with Dixon.

Why would a guy who walked away from the Marist College head coaching job on the day he was to be introduced to the media — because Poughkeepsie was too far from his Freehold home and his New Jersey roots — seriously toy with the notion of heading to Pitt as an assistant?

"Because of Jamie," was Hurley's response following yesterday's practice at Spiro Center. "He's the only guy I ever really considered working for. I've always admired him as a straightforward person and a great coach. And I love the way his teams play."

…

"Jamie is a basketball coach who just happens to be working in the Big East at a program that is one of the best in the country," he said. "He's great at what he does, but he's not out there looking for his next move. He would be just as satisfied coaching in high school somewhere."

Dixon was in the St. Benedict's gym many times in Hurley's decade there coaching some of the highest profile high school stars in the East.

"Jamie never wound up taking any of my guys," Hurley laughed. "But he was always direct and up front and I admired that about him."
Given the coaching family that Dan Hurley is a part, this is high praise.
---