Well, it's time to update the non-news of Big East expansion.
Villanova is still trying to recover from their powerpoint presentation to the Big East last April. Underpants Gnomes, man. Underpants Gnomes.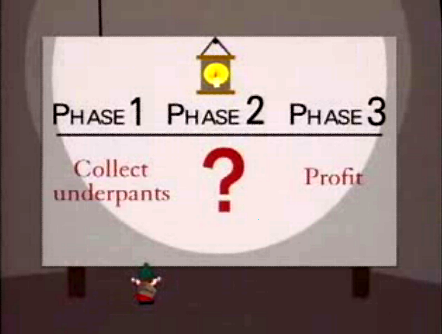 The reality is that the Big East has reached a moment where it is paralyzed. There are enough questions about Villanova among the football schools to hold them. There is deep resistance by the basketball schools to bring in another full member. And even if there wasn't, the football schools really don't have a clear alternative they can support as a group.
So what's going on? It appears that a number of the Big East's football schools aren't sure what they want their league to look like. Would adding 'Nova as a 10th team be enough for a while? Would adding 'Nova and two others – Central Florida and Houston are popular rumored additions – be the better option? Is 'Nova the right choice at all? These decisions are not going to be made in the next three weeks, I'm told. That means the three-year timetable to move up, an aggressive one under the best of circumstances, isn't likely.

We're also told this is not some interim step toward turning Villanova down. (Although that obviously could still happen; it just hasn't happened yet.) Some people believe that if the league takes only one new member, Villanova still has the best shot at being that school. So why doesn't the Big East simply add one school now and decide about adding more in the months ahead? Answer: Let's assume that league officials realize that the Big East hasn't exactly covered itself in glory for the way this whole episode has been handled.
There is a May 30 deadline that Villanova has looming to make a decision about moving up to D-1A. If they don't make the call — and 'Nova is unwilling to do so without the Big East waiting for them — they won't be able to make the move until at least 2014 — more likely 2015 — rather than earlier or with three years to transition.
VUHoops.com reports that Villanova is still trying to get arrangements worked out for the soccer stadium expansion plan. What stands out about this, is that Villanova continues to be unwilling to take any committed steps (read: putting the money out there) without all assurances that there is no risk. It has been a month since the decision was delayed. In that time, the Philadelphia Union has indicated a willingness to work out a plan for speeding up expansion. Yet, little to nothing has emerged other than the fact that both sides are talking. No framework. No outline. Not even a vague notion of a timeline.
Arguably, you could say that this is a prudent move and given the sudden turn of events in April reasonable. Except that it ignores the fact that it was Villanova's continual dithering and drawn out decisionmaking process that helped create their present sense of limbo.
Instead of making a swift, decisive move to protect its athletic program, Villanova fell back into the muddled world of academia, where committees, hand-wringing and fear of reprisal rule. The Wildcats surveyed every single possible constituency. They tried to assuage a faculty that voted 29-0 against increasing the school's commitment to football. They worked to curry favor with local residents. They reached out to alumni. To students. It's a wonder a blue-ribbon panel of custodians and maintenance professionals wasn't formed to examine the decision. Faced with an opportunity to become a part of the 21st century college sports reality, Villanova responded with 20th century institutional waffling.

One weekend last winter, Villanova convened a summit of representatives from nearly every university community. The folks were broken into groups that included a member from each area and were told to discuss the football issue. At the end of the symposium, everybody reconvened and came up with four reasons why it would be a good idea to play big-time football and four reasons why it wouldn't be so smart. Nothing was decided except that the university couldn't decide. By letting the world of academia, which hardly operates on a get-it-done-now calendar, drive the decision-making process, Villanova hurt its chances.

While this grueling self-examination was taking place, doubt was germinating in the minds of athletic directors from other Big East schools. Would it make sense to welcome a member that would play — at least initially — in a converted soccer stadium (PPL Park) that holds just 18,000? Why, every single Mid-American Conference school has a stadium bigger than that. And even if the stadium were expanded to 30,000, a drastic move that would fly in the face of the successful, cautious business model created by the Philadelphia Union, PPL Park's main tenant, its capacity would still be at the bottom of the Big East.
Now, back to the money of a TV deal. A small item fuels much optimism among Villanova faithful.
Consider this: We're told that a future Big East football television package is a bit more valuable with Villanova in it than any of the other obvious current options, schools such as Central Florida or Houston. (Not sure if Villanova vs. Temple was included in the projections.)
If you are in a kill/blame/attack the messenger mode. And I'm sure some of you are, yes, that was from a Philly writer and really has very little information accompanying it. That doesn't mean it isn't necessarily accurate.
Philly is still a larger media market and while UCF and Houston might be better teams — there is nothing to indicate that the locals watch the local team in any great number to make them a better option.
The thing I see unaddressed in the small item, is the value of a potential contract per team if the Big East stayed at 9 rather than go to 10. This, to me, seems like the most likely outcome at this point. Not because there isn't a will and urge by the football schools to go to 10 teams. It is that the only thing that seems clear at the moment is that there is no consensus among the parties and the Big East is clearly lacking any sort of strong/persuasive leader to get at least enough members to rally behind one candidate.
A new letter from Nova's Father Donohoe, all but declares that it isn't his or Villanova's fault for the present wait. That it is all on the other members of the Big East. I'm sure that will go over well with the other programs.
The only thing that is certain, it's all on the Big East to make a decision at some point.
---