Let's just get this done.
On the bright side for the Big East, Providence is back on the bubble.
A night of magic for the Friar side.
Could it get any better for the Friars than Tuesday night?

Not really.

It was a Friar fantasy sprung to life, the kind of night that was promised last April when new coach Keno Davis was introduced, the symbolic start of a new era in Providence College basketball. The kind of night when the building is buzzing and it can get so loud you think the next Friar 3-pointer is going to rip the roof right off the building.

It's the script Providence College was built on, the little school that defied all of the odds, the little school that always would find a way to knock off the big-time team that came to town, the Friars as a basketball dragon slayer.
Yada, yada, yada.
The big theme from Providence was that it was a night the seniors on Providence made things happen.
All season, and perhaps through the previous three seasons as well, the players at the core of the Providence College basketball program have come tantalizingly close to the type of upset win that would make the college basketball world stand up and take notice.
Tuesday night, with their backs fully pressed against the wall, they finally came through.
Especially the big men going against DeJuan Blair.
For those first 20 minutes, the 6-8 Kale was dominant, grabbing several balls over Blair on defense and stuffing down powerful dunks on offense. He punctuated some of his more impressive moments with motions to the crowd, whooping and raising his arms, urging the Friar faithful to get to their feet.

Kale said the Friars just wanted to keep the pressure on Blair at all times, and they did.

"We just wanted to keep a body on him, contest his shots, limit his rebounds. Make sure someone was putting pressure on him at all times. He's so physical, he's so strong, he tries to move guys. We just wanted to make sure that we crowded him, make things tough on him," Kale said.

When Kale was out of the game, Randall Hanke replaced him, and Blair was able to get some traction on offense against the wiry 6-11 Hanke. But Hanke's quickness forced Blair to compensate on defense, and the Pitt center drew two fouls in 15 seconds while defending against Hanke's moves. That gave Blair four for the game, and sent Pittsburgh's big man to the bench.

Hanke said he knew Blair was already in foul trouble, and consciously tried to see if he could push him into further danger by making strong moves to the basket.
Aggressive moves against, being out of position and late swipes by Blair will not add up to good work.
It really was the best game I've ever seen from Providence. And the Friar players don't disagree.
"I think this is the most complete game, ever," was the seal of approval Xavier (six points) placed on the monumental win. "We played together, everyone was picking up the slack; no one was going 1-on-1."

Echoed Hanke: "We've shown flashes of the past (regarding the Friars' potential), but we played together and did whatever it took. Everyone of these seniors played their role."

After getting feted with flowers and framed jerseys, the Friars quickly checked their emotions at the locker room. Perhaps stunning Pittsburgh, who moved into the top spot on Monday, Providence stormed out to a 15-4 lead left the Panthers. The Friars penetrated the Panthers' normally staunch defense with ease, attacking Pittsburgh's low post with a series of dribble drive penetrations that produced easy buckets.
Desperation and seeing careers end without doing anything finally got through to them. Great timing.
It didn't help that Pitt answered their intensity, desperation and effort with — well, blech.
"We played terrible," sophomore center DeJuan Blair said. "We gave them the game."

This loss was uncharacteristic of Pitt in many ways. Providence shredded the Pitt defense with mystifying ease. The Friars scored more points than any other team had this season against the Panthers and shot 49 percent from the field. The Panthers compounded that problem by turning the ball over 18 times and looking ragged on offense for long stretches of the contest.

"I didn't recognize us," Pitt coach Jamie Dixon said.
Join the club.
Another reminder that you don't take anything for granted and you don't presume you can turn it on and off.
"There is no one else to blame," Jamie Dixon said.

Pitt trailed, 6-2, less than two minutes into the game, forcing Dixon to take a timeout. Three minutes later, Pitt trailed, 15-4.

Pitt trailed, 44-26, at halftime — its largest deficit at any point this season — and, 52-33, with 16:23 to play. But the Panthers went on a 9-0 run to pull to within 52-42 on Brad Wanamaker's layup with 12 minutes left.

Blair picked up his third and fourth fouls in a 14-second span and sat for three minutes. Providence managed only one field goal in the final 6:20, but Pitt wasn't able to pull off the comeback.

"I don't know what happened in the first half," Blair said. "The first half, we just played terrible. We dug ourselves a hole, and we couldn't dig ourselves out."
As expected, when you listened to ESPN analysis and anyone else, it was DeJuan Blair in foul trouble. Sure he fouled out. He also played 30 minutes and only had one foul in the first half when the Friars went up 18.
As I have said, this doesn't take Pitt out of a #1 seed. Aside from Pitt, UConn, Oklahoma and UNC the other contenders for the #1 seed still are Duke, Memphis and maybe Michigan State. Two of those three will have to take it by winning their conference tournaments and having another top seed fail very early and badly. You might also put Louisville up there, but I don't for a #1 seed.
The fact is, all teams are flawed and have a weak spot. Luke Winn makes this point and even goes through most of the issues for each team.
And while Louisville's offense has been peaking in the past week and it may be the favorite to win the Big East regular season, the Cardinals did lose to Notre Dame — which might not even be an NCAA tournament team — by 33 points just two weeks ago. At the season's outset, nearly everyone thought there was a perfect team. It was supposed to be North Carolina. Now there are none, and when brackets are filled in a few weeks, you'll be forced to choose a champ whose flaws are the least troubling. Only if you worry most about whistles, you worry most about Pitt.
Really the theme generally for Pitt is, relax. These things really do happen quite a bit.
But the truth is all national champions go through this, often during the last week of February. It's practically a rite of passage.

On February 26, 2006, Florida lost on the road to Alabama, a team that barely made the NCAA tournament as a 10-seed.

On February 24, 2007, Florida lost on the road to LSU, a team that didn't even make the NCAA tournament.

On February 23, 2008, Kansas lost on the road to Oklahoma State, a team that didn't even make the NCAA tournament.
Don't fret too much about Pitt just yet. I'm not happy about it, and the performance made me ill.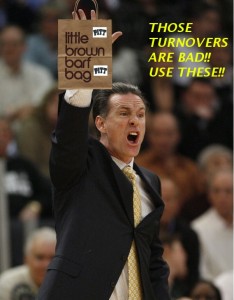 Thanks to Rick for the bag.